We are honored to announce that GoodWorkLabs is named as one of the top ECommerce Development Companies in India as published by SelectedFirms.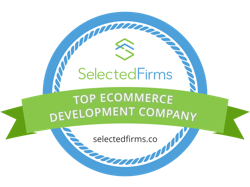 GoodWorkLabs is based out of Bangalore and Kolkata, India, and San Francisco, USA, is a leader in the technology development & outsourcing space globally. Having in-depth knowledge in the ecommerce segment we help our clients by providing them with effective ecommerce solutions. 
GoodWorkLabs has extensive experience in creating innovative web design and providing professional web development services.  Whether you're looking for enterprise website development, building an e-commerce online store, restaurant & food delivery solution, or any other interactive mobile-friendly website our team of developers will make sure that you get the best. Besides web designing and development, GoodWorkLabs is a leading new-age software and design lab that delivers cutting-edge products and solutions for customers globally.
About SelectedFirms
SelectedFirms is a platform that helps to match clients in need of IT services with the world's leading software development companies. They provide their readers with a list of notable firms that meet client's needs and provide superior services. SelectedFirms provide accurate information about leading IT companies around the globe and aim to connect the clients with the right company.