GoodWorkLabs are leaders in Enterprise App Development
At GoodWorkLabs, believe in spearheading the market by developing robust and scalable Enterprise Apps that are created by the best Enterprise App Development team. With the rapid transition in the market where corporates are moving from a stationary workplace setup to encouraging employees to stay connected and mobile, it comes down to us to generate progressive solutions that meet these industry requirements.
The Enterprise App Development team at GoodWorkLabs are committed to creating innovative, easy to use, and highly load balanced Enterprise Apps that are set to radicalize the market. GoodWorkLabs develops highly adaptive business solutions for Fortune 500 companies around the world. Our commitment to creating business specific enterprise solutions makes us unique in the market that aims to develop standardized chockablock solutions.
Enterprise App Development for best companies in the world
We believe in quality over any other factor when it comes to App Development. And at GoodWorkLabs, we believe that the most important aspect to developing a successful Enterprise Mobility Application is being able to appeal to the multi-faceted needs of the market. An app that is purely structurally efficient or is purely built for user immersion is not the right solution for the needs of an Enterprise.
That is where the GoodWorkLabs approach makes a whole lot of difference to your Enterprise App Development process. We focus on creating the perfect amalgamation between technology, business, and user-centric needs, and are experts at manipulating these myriad needs into a structurally sound and user-friendly product that efficiently manages long-term business needs.
We are the Best Enterprise App Development firm in the market
Enterprise App Development requires a deep and detailed understanding of the business our client is in and also needs a prognostic approach for various immediate and long-term business needs. Preparing for the future and developing an Enterprise App that can handle the various changing needs of an organization is where our expertise lies.
At GoodWorkLabs Bangalore, and Kolkata, India, our approach to developing world-class Enterprise Apps involves comprehensive planning and an Enterprise App Strategy that is guaranteed to address critical business needs. We develop Enterprise Apps that are built to outlast the market while being able to adapt to various factors such as form factors and changing user/business needs.
Secure data with the best Enterprise Apps in the market
As more corporates are choosing the bring your own device (BYOD) route, it is getting harder for companies to make confidential information available to employees without worrying about security. An Enterprise App aims to solve this exact problem. Enterprise Apps developed by GoodWorkLabs are not only scalable and adaptive to various devices, but they also adhere to the highest levels of data security in the market.
From the Enterprise App Development perspective, our main goal is to not only create a seamlessly connected and quick business application, but it is also to ensure that all information transfer is secure and protected. We are a team of Enterprise App Developers who are constantly experimenting with new technology and finding better ways to work on creating strong business impact. That, we believe, is our core strength while developing cutting-edge Enterprise Mobility and App Solutions.
Here are some of the Clients and Partners we have worked with over the years: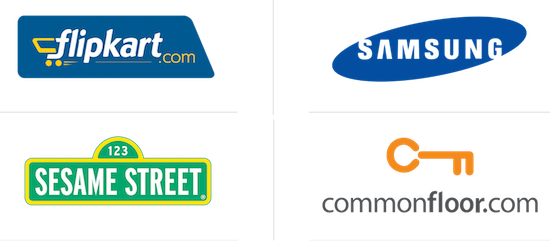 Here's why you should choose GoodWorkLabs for Enterprise App Development
Being a company that is not only committed to creating quality products but also deeply immersed in the philosophy of design thinking, we are the most forward thinking Enterprise App Developers in the market. Here are some of the reasons why an Enterprise App developed by GoodWorkLabs is the best choice for you:
Business focused Enterprise App Development
Connect with employees and end-users effortlessly
Increases productivity and saves times
Reduces upkeep cost
Secure data and handle information distribution
User-friendly and easy to maintain
Want to know more about Enterprise App Development?