The rise of the internet has revolutionized the way we shop, leading to the growth of e-commerce. In order to stand out in the crowded market, creating a successful online store demands a well-thought-out plan. In this blog, we'll delve into the realm of e-commerce and examine strategies that can help business owners in creating successful online ventures.
1) Researching the market
In order to learn more about the target market, consumer preferences and competitors, market research entails obtaining and analyzing relevant data. Entrepreneurs can make informed judgments and create strategies that fit the needs of the market by conducting thorough market research. Let us now look at the different ways in which market research can help you: 
Target Audience: Identifying the target audience is the first step in market research.  It involves understanding their demographics, interests, purchasing patterns and pain points. Tools like Google Trends, social media analytics and market studies can give us important knowledge about consumer preferences and behavior. By understanding your target audience you can adjust your product offers, marketing messages and customer experience to match the needs of your target audience. 

Competitor Analysis:Another important component of market research is competition analysis. Finding market gaps, analyzing pricing plans, assessing product range and quality and understanding competitors' marketing methods are all made easier by researching the competition. You can use this information to differentiate your online shop and develop a special selling proposal. Finding your unique selling proposition will help you position your company well and draw in clients.

Spotting new trends: Market research also helps in spotting new trends and business prospects. You may stay ahead of the curve and modify your strategy as necessary by keeping an eye on market trends, customer expectations and technological developments. This can include utilizing fresh channels, adding new products, or applying cutting-edge marketing strategies.
2) Optimize user experience
Enhancing user experience (UX) involves making your website  easy and  satisfying to use for visitors and clients. Increased engagement, improved conversion rates, and client loyalty are all results of good user experiences. While focusing on user experience optimization for your e-commerce store, keep the following points in mind:
Website design: Make sure your website is both user-friendly and aesthetically pleasing. To make it simple for users to find products, make use of clear navigation menus, a logical site layout, and prominent search capabilities. Maintain a simple, clutter-free layout that highlights important information while preventing the user from being overwhelmed.

Slow-loading websites can cause frustration among users, which can increase bounce rates. The performance of these websites can be improved and made faster, by reducing the amount of code on your website, compressing images, and utilizing caching methods. Fast loading times enhance user experience overall and benefit search engine rankings.

Mobile Responsiveness: It is essential to have websites that are mobile-responsive given the growing use of smartphones for online commerce. To ensure a consistent user experience across devices, adapt your website to different screen widths. Make sure that all components, including buttons and images, are simple to reach.

Product Information: Give thorough and accurate product descriptions that include information on the dimensions, composition and other specifications. The use of high-quality product photographs taken from various perspectives can help shoppers in making wise judgments. To increase credibility and confidence, include client testimonials and ratings.

Simplified Checkout Procedure: Make the check out procedure as simple as possible to reduce cart abandonment. Enable numerous secure payment choices, reduce form fields to necessary information and enable guest checkout options. Show a progress bar to remind users of the current stage and, if possible, provide a simple one-click purchase option.

Customer Support: Make it simple for clients to reach you with inquiries or complaints by offering customer support. Multiple communication methods should be available, such as live chat, email and phone support. To improve the overall experience, respond to consumer inquiries quickly and professionally.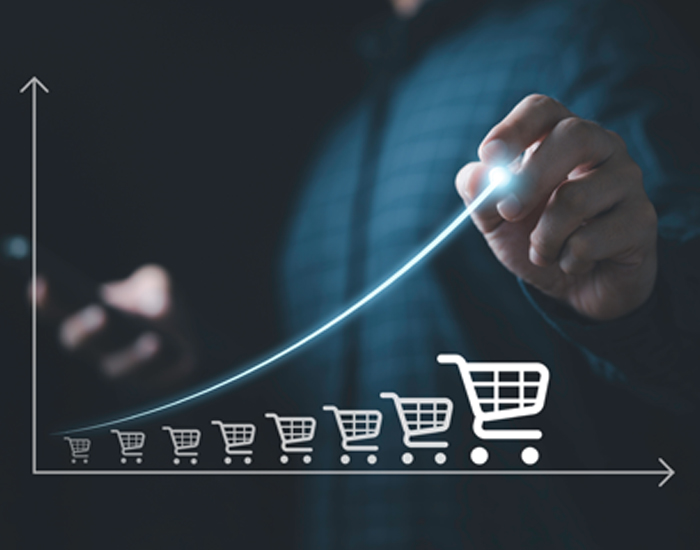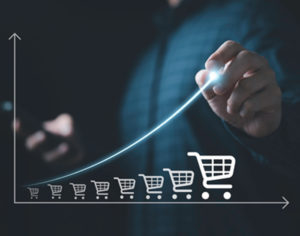 3) Digital Marketing
Different strategies and techniques are utilized in digital marketing to advertise goods and services on the internet. Some essential components of digital marketing are listed below:
Search Engine Optimization: The goal of search engine optimization (SEO) is to make your website more visible in search engine results. You may enhance organic traffic to your website by utilizing suitable keywords, producing high-quality content, and optimizing meta tags, titles, and descriptions.

Content marketing : This is the process of creating and sharing  useful, educational, and interesting material in order to draw in and retain your target audience. This can include articles, blog entries, videos, infographics, and any other content. By using content marketing, you may position your brand  better and connect and build trust with your audience.




Social media marketing: This gives you the chance to connect  and interact with your target audience through sites like Facebook, Instagram, Twitter, and LinkedIn. You may increase brand recognition, increase website traffic and create leads by producing and sharing relevant content, running targeted advertisements and communicating with your followers.

Pay-Per-Click (PPC) advertising: PPC advertising entails placing advertisements on social networking sites or search engines and paying each time a user clicks on your ad. Websites like Google Ads and Facebook Ads allow you to target particular keywords, demographics and interests to make sure the correct people see your advertisements.

Email marketing: To nurture leads, develop relationships and increase sales, tailored emails are sent to a subscriber list. You may boost consumer engagement and conversions by distributing personalized and pertinent material, such as newsletters, discounts, or product recommendations.

Influencer marketing: Working with influential people on social media to promote your goods or services is known as influencer marketing. You may reach their engaged audience and increase brand exposure and revenue by utilizing influencers' credibility and reach.
4) Adopting an omnichannel strategy 
Adopting an omnichannel strategy involves combining numerous sales and marketing channels to give customers a seamless, uniform experience across all touchpoints. Here are some reasons why adopting an omnichannel strategy is essential for creating a successful online store:
Broader Audience: You can sell your goods or services to a larger audience by using a variety of channels, including your ecommerce website, well-known marketplaces, and physical storefronts. Each channel offers a chance to reach out to various customer groups and raise brand awareness.

Experience Consistency: An omnichannel strategy makes sure that customers have the same experience no matter which channel they use. Consistent branding, message, and customer service are all part of this. A smooth experience raises client happiness, fosters confidence, and encourages repeat business.

Increases convenience for customers: Customers can choose the sales channel that is most convenient for them when many channels are offered. While some customers may prefer visiting a real store, others may prefer browsing and making purchases online. By offering options, you can accommodate a range of tastes and make it simpler for clients to interact with your company.

Data Integration and Insights: An omnichannel strategy makes it possible to combine customer data from many channels. This collected data offers insightful information on consumer behavior, preferences, and purchasing trends. You may customize marketing messages and suggestions, improving the overall consumer experience and boosting 

Competitive Advantage: Adopting an omnichannel strategy separates you from competitors who might be constrained to a single channel. It proves your dedication to satisfying consumer needs and delivering a smooth experience. You can attract clients that value convenience and accessibility by providing a variety of touchpoints.your chances of making sales.
5) Staying up to date with current technologies and trends
Building a successful online store requires keeping up with trends and technologies. The e-commerce landscape is constantly shifting and evolving, with new trends, devices and technological advancements appearing frequently. Here's why it's important to stay updated: 
Competitive Advantage: You can outperform other online shops by staying current with trends and technologies. Knowing what's fresh and popular in the industry enables you to provide cutting-edge features, embrace cutting-edge platforms, and maintain a competitive edge.

Customer Expectations: As new technology and trends emerge, consumer preferences and expectations change. You can comprehend and adjust to shifting customer behavior by keeping up with the times. This makes it possible for you to deliver improved customer experiences, tailored recommendations and practical buying options that are in line with the customers preferences and expectations.

Enhanced Productivity: The use of new technology and techniques frequently results in increased productivity. By remaining informed, you can use automation, analytics and other cutting-edge solutions to improve customer service, streamline processes and manage inventories more effectively. Costs are reduced as a result, and operations are more productive.
In conclusion, a thorough strategy that includes user experience optimization, digital marketing, omnichannel strategies, market research and keeping up with the newest trends and technologies is needed to build a successful online store. Entrepreneurs can position themselves for success in the cutthroat e-commerce environment by comprehending the target market, delivering excellent customer experiences, putting into place efficient digital marketing techniques, extending sales channels and embracing innovation. To succeed in the always evolving world of e-commerce, keep in mind that creating an online store is an ongoing process that calls for constant monitoring, adaptation, and customer-centricity.
Here, at GoodWorkLabs we understand the needs of online retailers and offer end-to-end solutions for it. We carry out market research and examine the requirements of the target audience to help in creating the perfect platform strategy. In order to provide a seamless user experience, we design and construct reliable e-commerce websites and mobile apps. We also provide integration services to link the online business with different payment processors, delivery companies and inventory control programs. 
Our clientele includes e-commerce & retail companies like Flipkart, Myntra, 1MG, Licious, Paytm, Decathlon, etc. By using our expertise we have helped our clients transform their businesses and build seamless and successful ecommerce platforms. For more information please visit our website.