GoodWorkLabs is a rapidly growing global organization. We started the firm with an idea to help global companies build products, take them to the market and scale them. We help firms in technology, UX, pricing strategy, marketing and beyond. Our aim is to solve complex problems of our clients and we are proud to have passionate and awesomest programmers, designers and innovators.
We hire only the best minds in the industry and every client deliverable reflects our best work. We are constantly pushing the limits of technology to achieve significant milestones for our customers.
Contact us today for a kick ass career. In here, everyone is a superstar. 
What it takes to be a superstar? Read the Top 7 traits of a GoodWorkLabs Superstar 
What is the DNA of GoodWorkLabs? Read CEO Vishwas Mudagal's post on our core principles.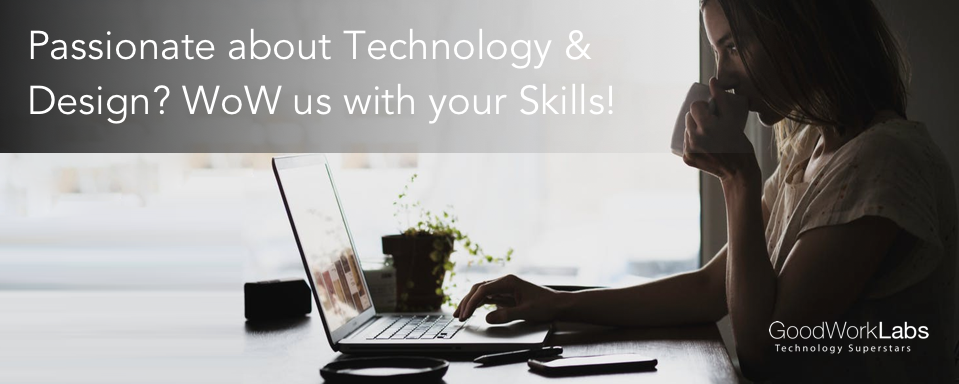 Open Positions –  
1. Ruby on Rails Senior Developer – 3+ years experience
2. UX Expert – 3+ years experience
3. Senior iOS App Developer  –  3+ years experience
4. Tech Lead iOS App Development – 5+ years experience
5. Senior Android App Developer – 3+ years experience
6. UI Developer – HTML, CSS, JS, JQuery, AJAX expertise needed – 3+ years experience.
7. Business Development Manager – Needs do or die attitude to move heaven and earth. Age / experience no bar.
(All tech positions need excellent problem solving skills and expertise in data structure and computer programming)
Salary and benefits will be the best in the industry.
We are open to hiring on both permanent and contract roles.
All the positions are open for Bangalore or Kolkata.
Please send your profile, GitHub link, presentations, work, portfolio, etc. to [email protected]
Cheers,
GoodWorks Team.