GoodWorkLabs – The Best MEAN Stack Development Company
GoodWorkLabs has over the years made a name for itself as one of the top web and mobile app and software Development Companies in Bangalore, India, Kolkata, India, and San Francisco, CA. Our team has a passion for everything design and development and we believe that this combination of the two is what sets us apart from the rest. As a company that is always looking for new walls to break, we know that our work with MEAN Stack has resulted in some of the most groundbreaking products for our clients around the world.
What is MEAN Stack and how will it benefit your Company?
MEAN Stack is essentially a software bundle that can help developers build hybrid apps that are extremely efficient in the shortest amount of time. MEAN is an acronym for the four software used to build your website or app, they are MongoDB, Express.js, AngularJS and Node.js, together they create a powerhouse of platforms that some of the best developers at GoodWorkLabs use to create the fastest and sleekest applications and websites on the market. The four platforms put together help create an environment that is has beautifully and efficiently designed front end and back end, synced to perfection, and stored in a database that vastly improves the functionality of your website or app. And all that done in a fraction of the lines of code usual developers would have to write. If you happen to be looking for the above mentioned advantages, then your search stops now. GoodWorkLabs is simply the Best MEAN Stack Development Company you will ever find.
The MEAN Stack Development Company that is at the top of the game
Developers generally use the LAMP method of application development, which most of the time leads to redundancies and extensions in the amount of time taken to complete projects. This is where the developers at GoodWorkLabs beat the competition. Our job is to solve client problems in the most seamless way possible. MEAN is a move from traditional way of web application development. Instead of sticking to the traditional LAMP frameworks which were limited in their capabilities the developers at GoodWorkLabs moved to the more versatile MEAN stack which is a far more developed and modern framework.
Websites built with MEAN Stack offer the best functionalities!
MEAN uses the more advanced method of combining several software into a single framework, and thereby helping to create a modern and intuitive web application. This helps companies create better looking web applications without compromising on speed or performance. The best part about MEAN stack development is that it is not very mobile centric and proves to run great on all OS right from Windows to UNIX and Linux devices. At GoodWorkLabs we create some of the best MEAN Stack applications that run on multiple platforms. The MEAN Stack Development team at GoodWorkLabs in Bangalore, India and San Francisco, CA create some of the top MEAN Stack based applications that work not only mobile platforms and Tablets, also on desktops, laptops and Smart TVs.
Companies on our Portfolio: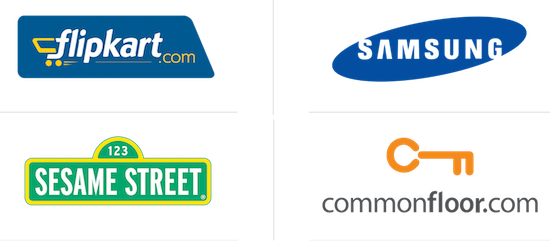 The Top reasons why you should choose GoodWorkLabs for MEAN Stack Development
GoodWorkLabs deploys MEAN stacks to develop wholesome web apps that fulfill needs for e-commerce or media websites. MEAN stacks lends a more modern UI and design to your app besides allowing you to use the most forward looking web based technologies on the platform. This will give a better user experience as it allows you to incorporate several features into a single framework. MEAN accelerates your app, giving it the push it requires. MEAN is a NoSQL platform and can run just about on any server, right from Windows, UNIX to Linux Here's how a web app built on MEAN Stack can help your company:
A versatile web application is something which todays apps definitely require.
A large application cannot afford to just be limited to mobile platforms.
App owners want their apps to run on all platforms as this only means more revenue for them.
MEAN stacks are a solution to anyone looking to develop and maintain a wholesome and fulfilling app catering to the appetite of a wide range of viewers.
Want to talk to a MEAN Stack Development expert?
Contact Us to get a FREE quote!