GoodWorkLabs is now a Google Certified Agency
GoodWorkLabs is very proud to announce that Google has certified us as an expert agency that understands and excels at building Android applications. We are one of the first few companies in 2017 to make it to Google's Android Certified Agencies list across India, UK, Russia, Indonesia, USA and Canada.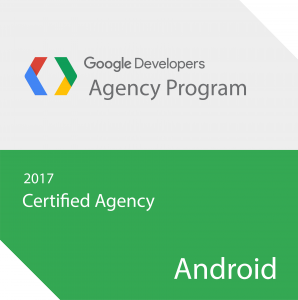 As a leading Outsourced Product Development Company and UX design studio, we know what it takes to build a mobile application that can spur millions of downloads from the Play store. Attention to detail, User Interactions, Design and Graphics, we ensure we build the best technology for our clients that will scale up their business.
GoodWorkLabs is one of the top 25 Google Certified Agencies: 
As part of this Developer Certification program, Google recognizes only a hand-full of organizations that have undergone the required training and have demonstrated expertise in building exceptional Android applications. By bagging this prestigious title, GoodWorkLabs has proven its excellence in terms of Android technology, design and mobile apps as a whole.
Here is the list of top Google certified agencies:
"This is by far the biggest recognition in the global industry that GoodWorkLabs is the leading company when it comes to building Android applications and related technologies. Google Certification has put us on the map of the best of the best agencies in the world," said Vishwas Mudagal, CEO and Co-Founder at GoodWorkLabs. "Having bagged this certification, our credibility has gone up many notches higher, which in turn has resulted in increased confidence in our capabilities by our growing customer base across geographies."
This certification will also help clients make a more informed decision while looking for an agency to build Android apps. In the past, we have worked with some of the top clientele which include both funded Startups and Fortune 500 companies.
Sonia Sharma, Founder and MD at GoodWorkLabs, said, "There is no bigger certification authority than Google for an agency. Years of effort in perfecting UX, design and technology, and a vision to build apps that touch the lives of millions of users have brought us here today."
The benefits of becoming a certified Google developer agency are plenty, some of which include personalized training, priority support, dedicated content, and access to Google's developer relations teams. Certified Agencies will also get early access to upcoming developer products and will get help with UX reviews.
GoodWorkLabs is delighted to be part of an ecosystem that understands and excels at building Android technologies.