Top 7 E-Commerce websites in India
Recent years have seen an exceptional evolution in the way India trades and shops. E-commerce is one of the rapidly growing sectors, stimulating an entire generation of entrepreneurs, large scale manufacturing of small and medium-sized enterprises. E-commerce has enabled helped reduce barriers and bring the manufacturer closer to the customer. The presence of a virtual store on e-commerce websites has helped millions of business flourish in India and has led to more employment opportunities as well.
Today, technology has advanced at a rapid pace and with the use of smart phones, the online shopping experience has become seamless for customers. With easy to use mobile apps with elaborate store catalogs, e-commerce has ushered new opportunities for both traders and consumers.
India is one of the largest markets of e-commerce players. With giants like Amazon, Flipkart, Snapdeal, and Myntra, new entrants like PayTm Mall, Shopclues, etc are also establishing a strong hold in the Indian market.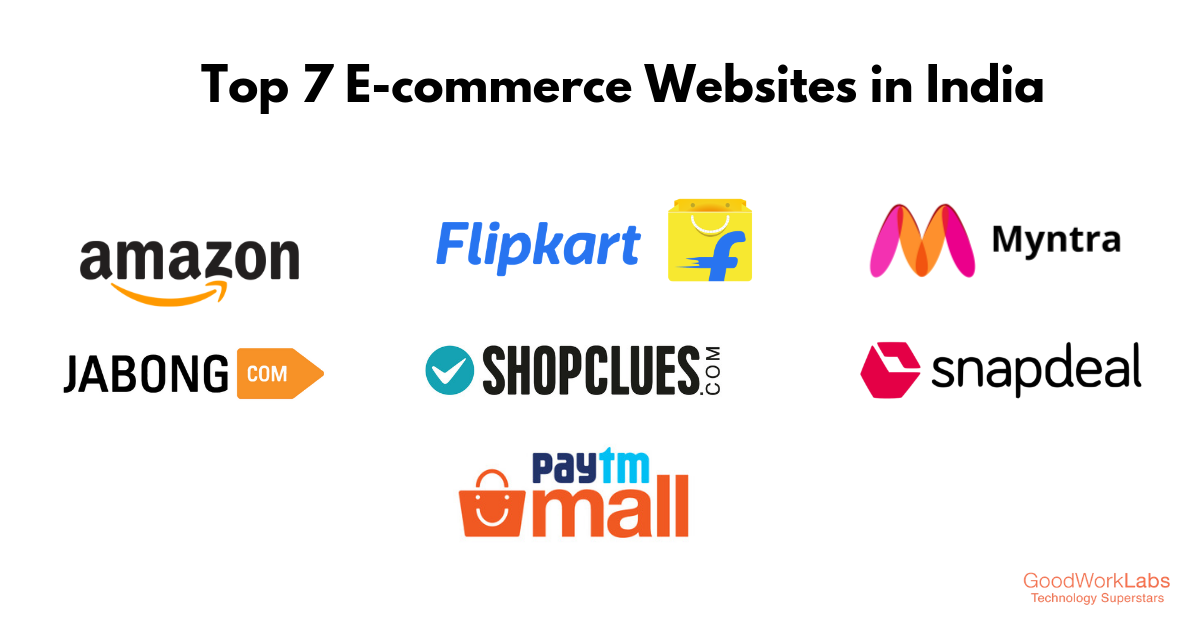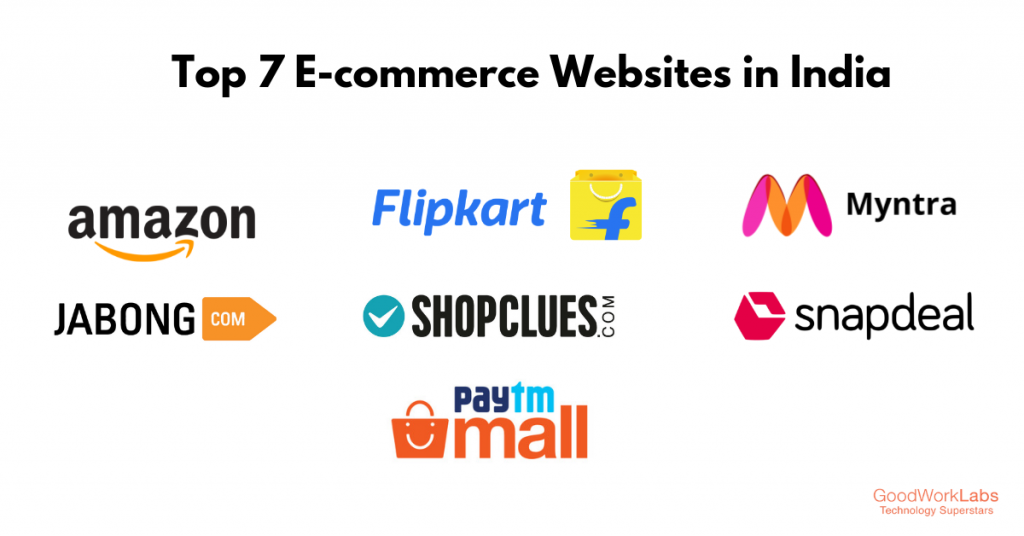 1. Amazon
Amazon is one of the biggest online stores with a global presence. It not only provides a variety of product choices but also provides a great user experience and splendid customer service. Besides putting prominence to personalization, Amazon also monitors user's browsing and purchase patterns in order to provide them recommended products for future purchases. It operates in India as a marketplace rather than a retailer.
Amazon has started two new initiatives for sellers in India: the 'Self Service Registration (SSR)' and 'Amazon Easy Ship'.
Amazon SSR allows sellers to self register in Amazon marketplace, irrespective of location and size of the catalog. It enables sellers to start selling within a day without any third party intervention. With Amazon Easy Ship, the seller has to pack the shipment and confirm to Amazon that they are ready to ship. Amazon Logistics ensures that the pack is delivered to the customers within two to three working days. With new features such as Amazon Prime, customers can receive delivery of products within 24 hours. By reducing the shipping time, Amazon keeps both retailers and customers happy and increases customer stickiness on the website.
Right from mobile phones, to fashion products, electrical appliances, books, and grocery, Amazon has become a one-stop shop for all consumer needs.
2. Flipkart
Flipkart is an Indian based e-commerce venture and over the years, it has garnered a lot of interest in the minds of Indian consumers. It has opened up the scope for Indian e-tail market in a tremendous way. It started out as an online bookstore and now it has a gamut of products ranging from: books, apparels, electronics, digital music, home care and beauty. Moreover, it has now become a mega marketplace.
Flipkart's fundamental differentiator is its supply chain efficiency— definitive delivery of goods. It has been continuously developing and improving the customer experience. The website is easy to browse, hassle-free, and convenient.
Two of the most important reasons for Flipkart's grand success are the discounts and the option of Cash- on- Delivery which makes consumers more confident in purchasing products. Flipkart has an amazing customer retention rate with 70% of repeat customers.
Apart from the shopping experience, Flipkart's biggest online shopping festival – Big Billion Days is one of the most successful campaigns and it churns out millions of orders during that shopping season.
3. Jabong
Jabong came into the e-commerce market with a bang and created a revolution within 6 to 7 months of launch. Besides selling products on their own through inventories, Jabong is also an online marketplace for third-party sellers. They predominantly cater to apparel, footwear, jewelry, and accessories and catalog more than 50,000 products across 700 brands.
Jabong is known for its own logistics network that ensures fast delivery. If you are in a city like Delhi, you are bound to receive the product within 24 hours of order placement. Jabong is also trying to expand its international presence through its site 'JabongWorld.com'. It ships Indian products to international customers.
One of Jabong's uniqueness lies in its new idea of a fashion magazine— "The Juice"an interesting blend of fashion, people, trends and pop culture. The magazine has everything in it that readers would love to read in a fashion magazine. Jabong has also collaborated with films such as "Bhaag Milkha Bhaag", "Main Tera Hero", and "Humpty Sharma ki Dulhaniya" to offer exclusive products inspired by the movie.
The various payment gateways offered by Jabong have made it convenient for consumers to order products from the website. In 2016, Jabong was acquired by Myntra.
4. Snapdeal
Snapdeal is a successful e-commerce portal catering to customer's buying needs at a much wider aspect. It was established with a concept of making products available to the customers at a discounted rate through offers and Snapdeal coupons.
It gives you the best deals in a particular city in various service categories ranging from: restaurants, spas and salons, apparel, footwear, baby care, home and décor. It has adopted the marketplace business model. Snapdeal came up with a unique idea of permitting local vendors and manufacturers to publish their product catalog and sell it on the Snapdeal portal. This avoids expensive costs involved in building own inventory.
Snapdeal's business model was awarded with mammoth funding to scale up their products, business and operations. It focuses on logistics and efficient delivery to customers.  It operates in such a fast pace that a new product is added in every 30 seconds.
5. Myntra
Myntra is one of the largest shopping e-tailers in fashion and lifestyle merchandise. It supplies a wide range of products from clothing to footwear and accessories. It focuses on bringing the most fashionable brands for its customers. In 2014, Myntra was acquired by Flipkart.
Myntra has created a niche in the territory of e-commerce and subtle trust from people. Additionally, from discounts to Cash-on-Delivery benefits, the Myntra success mantra belongs to its hybrid logistics model. It takes uttermost care of its supply chain management and employs delivery agents with high experience.
Myntra has also come up with a complete guide to your everyday fashion and latest style trends. The "MyntraLookGood" is a daily fix of style tips, beauty tricks, celeb fashion, and non-stop entertainment. The tie-ups with celebrities and events are an outstanding strategy by Myntra to represent that fashion is in its DNA. Myntra has many celebrity brands— Hrithik Roshan's HRX, Salman Khan's Being Human, Deepika Padukone's All About You, and Farhan Akhtar's MARD. They believe that Bollywood influences fashion and frequent tie-up with celebrities helps to bring customers closer to Myntra.
6. Shopclues
Shopclues is the latest addition to the top e-commerce websites in India. Unlike Amazon and Flipkart, Shopclues is a market place that focuses on unstructured categories of home, electrical, fashion, and daily utility items.  The mass market of shopclues comes from tier 2 and tier 3 cities and most of its business comes from smaller cities. Shopclues helps give brands from unstructured markets a voice of its own.
Shopclues has a comparatively larger merchant base. It focuses on small and medium sized traders located in smaller cities and helps them take their business online. With over 50 million visitors on its website, one of the major revenue generating categories has been the home and kitchen appliances category.
7. PayTm
PayTm is the second largest e-commerce platform in India and has also made its way to the list of unicorn startups. Primarily started as a mobile wallet, in 2016, PayTm entered the e-commerce industry with PayTm Mall. As the name suggests, it is an online market place for products ranging from electronics to daily consumer needs.
One of the attractive features of PayTm has been its cashback feature. Consumers are given a variety of discount coupons to chose from and also provide good savings on the purchase of goods. With close to 120 million buyers on the platform, PayTm Mall is finding new ways to enhance the buying experience. It is also collaborating with retail brick-and-motor stores and with use of its mobile app and QR codes, it takes the customer through an online shopping experience with attractive discounts.
Thus, India is a growing marketplace and e-commerce industries are bound to flourish. But with the right technology and design strategy, new entrants can have a competitive edge.
Be it a website, a mobile app, or even building a market place software from scratch, GoodWorkLabs has helped clients in the retail, real estate, and fashion industry build powerful e-commerce applications for their business.
Have a business idea and want to discuss the best solutions for your e-commerce business? Reach out to us and our team will discuss further about your requirements. Email us at – [email protected] or call at +91- 9863077000