Apps are a part of our lives today. The traditional use of a mobile, that is calling and texting, has been taken over by the use of various apps! Consumers today prefer a smartphone, which helps them use their choice of apps efficiently. A large variety of apps are available for every OS (iOS, Android, Windows, etc). The number of android applications releasing every month is staggering but not all of these apps that are available are up to the mark. In our research we have chosen the following five as our top choices this month for Android.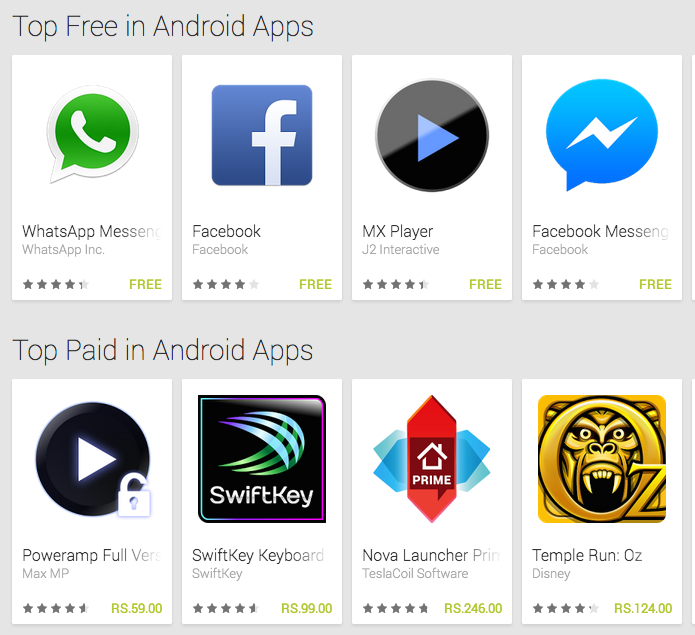 #1. Frontback
First up is the app, Frontback. Now, taking a selfie could not get any better! With Frontback you click a picture with the front camera and another with the back camera. The pictures can be shared into one single image. Frontback is an exciting app to speak about your life with photos. It is also an online community with over 1 Million users who enjoy being creative or just sharing their daily life.
Features:
• Instant sharing of photos via SMS, Facebook, Twitter, Tumblr, etc.
• Adds location to your images.
• Use of captions with @friends and #hashtags.
[Link to the app:
https://play.google.com/store/apps/details?id=com.checkthis.frontback
]
#2. ESPN FC Football & World Cup
Second in line is the ESPN FC Football & World Cup app. The World Cup is just around the corner! And who better than ESPN can give you live content of all the breaking news and analysis of every team directly on your phone, on the go! All football fans must have this app on their phones.
Features:
• Comprehensive coverage of all the major club leagues
• Alerts for game starts, goals, final scores and more.
[Link to the app:
https://play.google.com/store/apps/details?id=com.espn.fc
]
#3. Timehop
Want to be reminded of your good old days? Our third chosen app, Timehop is just the one for you! It's basically an app goes back into time and gives you a new old photo everyday! This app is more useful for people who have shared many photos in the past few years.
Features:
• Simple log in with your Facebook account
• Syncs with your different social networking sites.
[Link to the app:
https://play.google.com/store/apps/details?id=com.timehop
]
#4. Yahoo News Digest
This is a brilliant app for those who wish a more handy way to catch up on the news. Yahoo News Digest, which gets all the news from different sources, is in our top four favourite apps for the month. This app sums up all the news, summarizes it with short "atoms" of quotes, images, videos and background information and delivers it as a package twice a day.
Features:
• Posts feature with beautiful photographs and colorful quotations.
• Trending tweets about article.
• Wikipedia entries to build background knowledge.
[Link to the app:
https://play.google.com/store/apps/details?id=com.yahoo.mobile.client.android.atom
]
#5. Word Monsters
The last but definitely not the least by any means is the app, Word Monsters. From the makers of Angry Birds' Rovio publishing division, comes an interesting new word game developed by experienced the industry professionals for use at home or in a school setting. This exciting and accessible word game involves swiping words off the screen and also competing against friends from social networks. The core word puzzles are fleshed out with different themes.
Features:
• Richly designed visuals and engaging stories featuring 5 quirky fun-loving monster characters, each with their own special ability
• Synchronized professional voiceover audio with text highlighting
• Character speech and accompanying speech bubbles for richer reading.
[Link to the app:
https://play.google.com/store/apps/details?id=se.raketspel.wordmonsters
]
These five apps made an impact on us and on all their users. But, we do recommend you try the following ones as well. We have a feeling you will love them as well.
Now don't be shy, give them a try!
• Waygo [https://play.google.com/store/apps/details?id=com.waygoapp.waygo] • Mubi [https://play.google.com/store/apps/details?id=sk.jfox.weather.niger_mubi] • Aliens Drive Me Crazy (game) [https://play.google.com/store/apps/details?id=com.rebeltwins.aliensdrivemecrazy] • 1849 (game) [https://play.google.com/store/apps/details?id=air.com.somasim.fortynine]