Benefits of outsourcing R&D for the Internet of Things
Let's take a moment to recognize the importance of the R&D department in an organization and how they contribute greatly to the growth of the company by bringing innovations to the table.
Though R&D contributes greatly to organizational growth, it is agreeable that the apparatus that this department requires might be an unaffordable luxury for many businesses.
Also, with this issue identified, shift your focus to the fact that 21% of organizations are already ahead in the run of incorporating the IoT projects in their business while 28% are planning to succeed them in next year, as per a study by Red Hat.
In this race of incorporating IoT in the existing businesses, it will be difficult for companies to acquire appropriate in-house talents who can help them shape their dreams.
There is a single solution for both the aforementioned issues 'Outsource the R&D for your IoT projects.'
To entail the flexibility of scaling up and down quickly, companies can choose which elements to outsource for an IoT project. In this blog post, we have highlighted the major benefits of outsourcing R&D for IoT projects.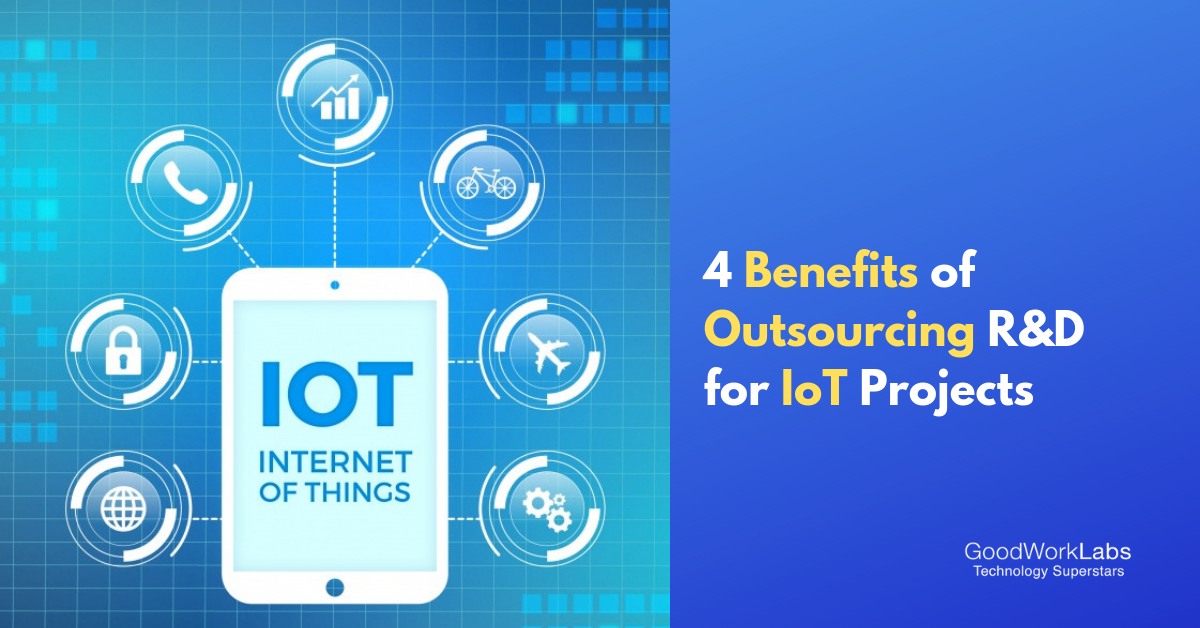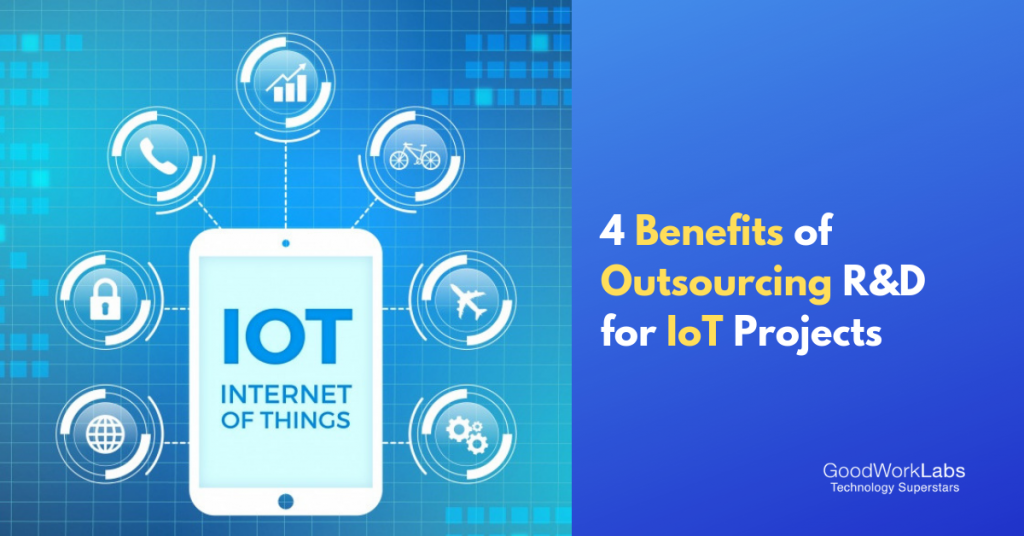 1) Expertise and New Avenues for Innovation
It is a misconception that companies outsource R&D projects because it is economical. Companies rather prefer to outsource R&D projects to leverage the expertise of R&D vendors. It is a ready advantage by simply outsourcing and having the best engineers and marketing specialists to collaborate and work on your IoT projects. With their know-how of collecting and combining data, you will be able to bring order out of chaos at a very early stage. They will specifically work around the identified needs of your customers and gather data which is relevant for your IoT project.
It is a great opportunity to have conditioned data scientists to work on your projects at a relatively lower cost than an in-house team. When you outsource IoT project, you can get access to experts, better equipment, and innovative ideas which are otherwise out of your reach. The major achievement is pitched in creative ideas from rather a wide and diverse pool of talent.
2) Faster Lane to Market for IoT Projects
If you have worked on IoT projects before you would be well aware that it takes a lot of time to test your ideas through Proof of Concept (POC) or a Minimum Viable Product (MVP) before finally proceeding towards IoT development. There is one possible way to minimize the efforts and create a faster lane to the market: outsourcing R&D for IoT projects.
We live in a dynamic world where the window of opportunities open for a very short span of time. R&D vendors understand the time constraints involved and allow you a chance to build POC for testing the relevance of your IoT solution to the customers' needs. This option enables you to analyze, test, and even reject the concept without much investment at your end.
The other option is building an MVP. R&D vendors can assist with that as well. They will build an MVP with the minimum features to cater to the basic requirements and showcase functionality. Also, these MVPs, if approved, can form a solid base for your future IoT project development.
3) Economical Option
Having an in-house R&D lab is a very experience affair, you will know if you own one. There are several overhead expenses involved apart from administrative costs and equipment costs. These overhead expenses majorly involve training costs of R&D engineers to suit their services to your organizational needs. These expenses can be mitigated by hiring R&D professionals and outsourcing the IoT projects to them.
Not only is this option less expensive but also allows you to spend less time and efforts in this area. The market for R&D services is quite developed and is open to all. They have entire departments dedicated to all the emerging technologies that you wish to try your hands on like IoT solutions, robotics, deep learning, and chatbots.
4) Managing Risks
As per the R&D magazine, 84% of outsourcing in the US is done to other US-based manufacturing companies, and in Asian and Europe also the trend of outsourcing is increasing.  Sustaining an in-house team is risky and there might be a lack of experience in the desired field.
GoodWorkLabs can help you conduct R&D services from its offices located in San Francisco and New York. We can help you mitigate these risks and get maximum output for limited and fixed investment. With an experienced team of R&D engineers, we know exactly how the testing of an IoT device should be carried out. The added benefit of assigning the R&D of your IoT project to us is that we can quickly scale up and adapt to the recent updates while pacing up with real-time data.
To Conclude…
Just like the other prevailing technologies, IoT solutions are required to be floated through a tough tunnel of research and development before launching them in the market. A simple loophole can cost you a fortune, hence it's better to let professionals do the R&D for you.
Being professional IT partners for several organizations, we at GoodWorkLabs can bring value to your IoT project by keeping an eye for innovations and experimenting with alternative solutions. We help you optimize costs while cutting on the overheads of an entire department. Also, with a fast lane to market, you can minimize risks and limit your efforts. Step into the world of optimization with us. For more details, drop your contact details and we'll have our experts get in touch with you