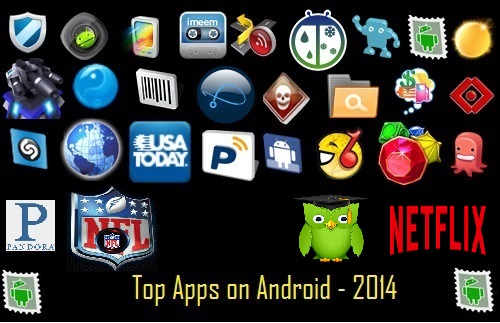 Google has announced some of the most loved apps of the previous year 2014 as part of its year-end roundup. They have provided different categories such as games, apps, music, movies and books. Here is a brief summary of analysis of the same –
Fastest growing category – Health & Fitness
This insight shows the willingness of scores of Android users to make health and fitness a part of their daily grind.

Below is a list of top downloads by category – 
Education – Duolingo – This is an immensely helpful app for new language learners across the world who want to make an impact with their language capabilities
Social – Facebook – No surprises here considering the 1.2+ billion users already logged on to Facebook
Sports – NFL Mobile – It brings all the action in football to your smartphone device, in form of breaking news, insights, highlights and live game scores
Health & Fitness – MyFitnessPal – As per the app's website, millions of people have lost unwanted weight, thanks to its calorie counter.
Music – Pandora – The music streaming and automated recommendation services helps in effortless and easy music discovery for millions of music fans who seek songs and albums as per their preferences.
Entertainment – NetFlix – The on-demand Internet media streaming service stood as strong favorites in North America, parts of Europe as well as in South America
Photography – Flipagram – The app has been popular for its offering of creating short videos from a set of images of photos and overlaying it with sound or music as per user preferences
Travel – TripAdvisor – The app featuring reviews and travel-related content from actual travelers in forums has notched top spot in the travel category thanks to its clean layout and handy reviews
Here are some more common and popular categories in which we have listed top 3 apps. So if you don't have these on your mobile, you can go ahead and download it, because that's precisely what millions of Android smart device users across the world are doing.
1.      Most Downloaded Games 
Candy Crush Saga
Don't Tap the White Tile
Farm Heroes Saga
Subway Surfers
Clash of Clans
2.      Most Downloaded Music 
Song of the Year – Dark Horse by Katy Perry
Song of the Summer – Fancy by Iggy Azalea
Album of the Year – Frozen: Original Motion Picture Soundtrack
3.      Most Read News Articles 
15 90s Teen Hearthrobs who've resurfaced on TV
50 More Awesome Facts (About Everything)
10 Most Miserable Cities in America
4.      Best News Sources of the Year 
The New York Times
TMZ
Forbes Now
5.      Movies and TV
Movie of the Year – Frozen
TV Show of the Year – The Walking Dead
Comeback Movie – Toy Story
6.      Books of the Year
The Fault in Our Stars
Fifty Shades of Grey
Divergent
This will serve a good pointer to users to download apps that are much appreciated and met with worldwide acclaim.