Here's a 2 part series to get a glimpse of the amazing new features Apple has come up with for iOS8 over iOS7.
Part 1 – Differences between iOS 8  v/s iOS 7  
On June 2, 2014, at the Worldwide Developers Conference (WWDC) 2014, Apple Inc. announced the eighth major release of its iOS mobile operating system. It has succeeded iOS 7, which was released in September 2013. There are some exciting new features for both iPhone users and iPhone mobile app developers.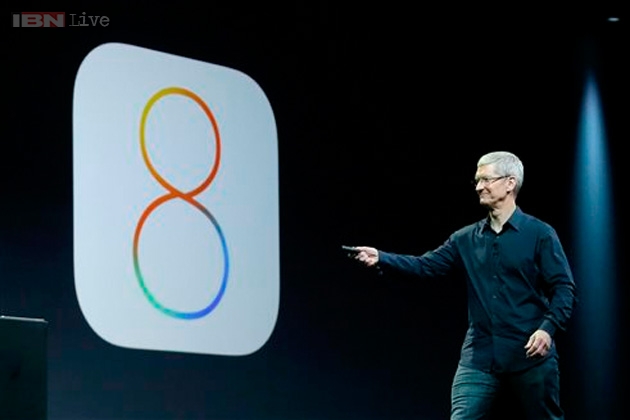 The new iOS is an improved and advanced version of the previous operating system. Following is an overview of the different new features of iOS 8, in comparison with iOS 7.
Keyboard Difference between iOS 8 and iOS 7:
The new QuickType feature helps in typing faster by providing word suggestions in iOS 8.
It suggests what word to type next in accordance with the people you are interacting with, whether they are friends or colleagues or a complete stranger.
Users can now also install a third-party keyboard, like Swype or Swiftkey.
Interactive Notifications:
Now reply to a message without leaving the app you were using. This is also possible for third-party apps like facebook, where you can like or comment through the notification without opening facebook at all.
This also works on the lock-screen.
In iOS 7, double-tap could only get you in touch with the opened apps. In iOS 8, the same option can now get you in touch with your favourite contacts instantly.
Health Kit:
iOS 7 had separate apps to measure blood pressure, heart rate, calories burnt, diabetes and other such metrics. With the new Health Kit in iOS 8, now keep all these measurements in one place.
It's personalised as well! The kit recognises your readings and acts accordingly. For instance, if your blood pressure is higher than what it usually is, or your heart rate has increased abnormally without having done any activity, it will instantly notify a hospital, and a doctor will contact you immediately.
For this, Apple has also tied up with Mayo Clinic and several other hospitals.
Spotlight:
Spotlight is enhanced, providing you with results from multiple sources. For instance, if you search for a movie, you will get results from iTunes, as well as its current running show-time in theatres.
Mail:
Delete mails, mark as unread, or flag, by simply swiping the mail in the inbox.
While composing emails, if you want to access other emails, you could now just swipe down the composing mail and check your inbox.
Safari:
This app has become tidier, as you can now choose to hide the sidebar containing bookmarks, shared links and reading lists.
It also provides a bird's eye view of all the websites that you have opened, grouping the tabs which are from the same site.
Scanning the credit card and make purchases without entering your details.
By holding the '+' icon, open a recently closed tab.
Now enter into privacy mode for only select sites, unlike previously, when under privacy mode, all opened tabs went into that mode.
Enterprise:
Configuring your device in accordance with your organisation has become as simple as it can be.
Also, there is better privacy option with passcode protection for all apps – calendar, contacts, mail, messages, notes, reminders, third-party apps (eg. fb).
Siri:
If you now say 'Hey Siri', the Siri is activated right away. You don't even need to touch the phone at all.
It even recognises songs playing in the background.
Ask it to purchase that song for you, and it will take you to the iTunes store.
It also supports 22 new dictation languages.
Continuity:
With iOS 8, you can now have all Apple products synced together.
Switch between devices and pick up from where you left off, and that too, without manual configuration.
You can now also Airdrop files between Mac and iOS devices.
iCloud Drive:
In iOS 8, if you make any changes on the documents that are saved in the iCloud drive, you instantly have it on all your synced devices.
You also get the first 5GB data storage for free.
Messaging:
In iOS 8, now share audio and video files instantly and also share locations.
Have group conversations, add or remove people, and switch to 'do not disturb' mode to mute a conversation, or leave the group entirely.
Photos:
Editing features for photos in iOS 8 has become smarter than before.
Also, photos can now be easily searched for by typing their timeline, location or name of albums.
Family Sharing:
With this new feature, add up to six members sharing the same credit card.
Share as many photos, movies, songs, documents, lists or calendar reminders with family.
End of part 1. In part 2 we will discuss the Developer's Kit. 
Update: Read the Part 2 – iOS8 versus iOS7 Developer's Kit here
(image source – IBNlive.com)