Understanding Internet Of Things
"Anything that can be connected, will be connected."
People who understand Internet Of Things and its potential will tell you that the Mantra above will be the talk of the town in the coming years. Anything you can imagine, anything at all would be connected to the internet, it is happening now and will only expand aggressively. So, wouldn't it be imperative to know what exactly IOT is and how it works?
Imagine this situation. You logout of your office swiping the access card, the sensor sends a message to your car parked below which has already started and the navigation system has already plotted the route to your home alerting you about the traffic on different possible routes. The air conditioner in your house switches on automatically before you reach the house and adjusts the temperature according to the weather outside. The coffee brewer on intimation brews some coffee for you and the refrigerator sends you a message about the missing groceries. At a single touch, before you reach your house, the coffee is brewed, the air conditioner has set the tone for your comfort and the groceries have arrived at your doorstep. This is the power of Internet Of Things.
Every single device connected to the internet and integrated to feed off data from each other to make our lives better is probably just the gist of it. And this is not just for machines, it can be even for the minutest component of your machines. From a commercial airliner to a sewing machine, from your car to a water heater, everything is soon going to be unified on a single network. The opportunities are unlimited. Most of which might be out of our analytical might. Yet harnessing even a portion of it can create something as revolutionary as the wheel or fire.
 5 Internet of Things Application
Change has always been the buzzword. It is what signifies human existence. The change was first seen in 1974 with the Automated Teller Machines(ATM), and now amazingly there are far more objects connected to the internet than people on the planet. The most accepted ones so far are vehicles with all their user enhancing systems on board. With the advent of wearable devices such as fitness trackers and smartwatches, the horizons have expanded even more. Smart Kitchens, Smart living rooms, Smart houses, imagine every single electric impulse transferred as data to the internet for other user oriented actions. And if this is just the beginning, we already have over 4.9 billion connected devices and counting.
 Now, that we have a fair idea of what really Internet of things is, let us see how it will revolutionize our lives in the coming future:
1. Smart Highways:  Roads with 'on the go' warnings about weather expected ahead and diversions in case of mishaps and blockages will soon be functional across the globe. Smart highways will have a unified platform that will integrate data from traffic signals, traffic sensors, vehicle movements and on board GPS. It will be similar to living organism that constantly updates the vehicles about traffic patterns, speed limits and adversities.
2. Autonomous Cars: Cars with auto park feature are already in the testing phase. Many cities across the globe have given a green signal for testing the driver-less car as well. The autonomous cars, equipped with intelligent sensors will feed off years of data from vehicle databases to analyse driving patterns and road hazards. Autonomous cars will constantly update itself to make the driving experience a risk free and a safe one.
3. Patient Surveillance: Monitoring of vital signs for patients in hospitals and elderly people in old age homes is an important application of Internet Of Things. Right from the blood pressure, heart beat and other vital stats, to minute changes like changes in the pressure and temperature patterns of the room, all the data can be monitored to ensure better patient surveillance.
4. Smart Homes: Internet Of Things can automate an entire home filled with appliances and lighting systems. A single touch of hand can automate appliances even before you enter the house. Right from your groceries to garbage disposal, every household chore can be planned and scheduled for. It will give you the comfort of controlling your appliances even when you are miles from your home.
5. Defense Systems: Defense forces across the world have already started applying this technology, some of them on their more secure systems. The defense capabilities of any nation will surge ahead and their warning systems will become more accurate.
How Internet Of Things is changing lives:

As discussed earlier, Home Automation with the assistance of Internet Of Things is soon going to change the way we live. Smart Homes are going to make our lives much more comfortable and hassle-free. By 2025, more than a quarter of the world's population is expected to have a semi automated smart home.
A step towards this was taken by GoodWorkLabs, recently.They created an application for one of their clients which offers complete home automation solutions. With the Internet of Things application developed,  the user can control the functionality of  home appliances with just one touch:
1) Adjust the AC temperatures in your Bedroom before you even reach home.
2) Set an alarm so that you are never late for the important things in life.
3) Adjust the lights in your living room to create evening.
4) Enjoy movie nights by setting your favorite movie lists on the TV.
5) Never miss out on your grocery lists.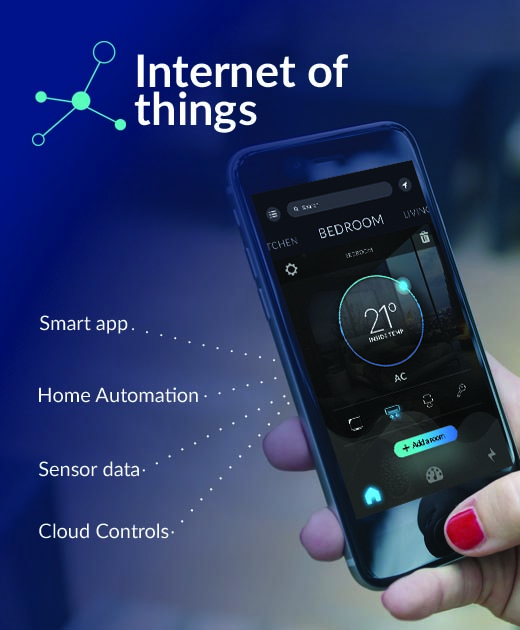 Read more: Click
These are just a few of the important applications we would see in the coming days, as mentioned earlier, the uses are limitless. We need to expand our horizons and think further ahead to employ ways that can protect human interests. Internet Of Things is the result of human evolution eventually. Everything we have ever invented, every medium we have explored and every thought we have recorded, all connected together.
Technically, it maybe devices connected to each other. In reality, it is every single person connected through their devices.
"If you think Internet has changed your life, think again. The internet of things will change it all over again." – Brendan O'Brien, Aria Systems