Job openings for Angular 2 Lead & Front-end Developer
We have 4 job openings for Angular, Angular JS and Front-end Developers and are looking to hire some of the talented minds out there.
If you are looking for a challenging career opportunity and want to work on building some amazing tech products, then send in your resume to [email protected]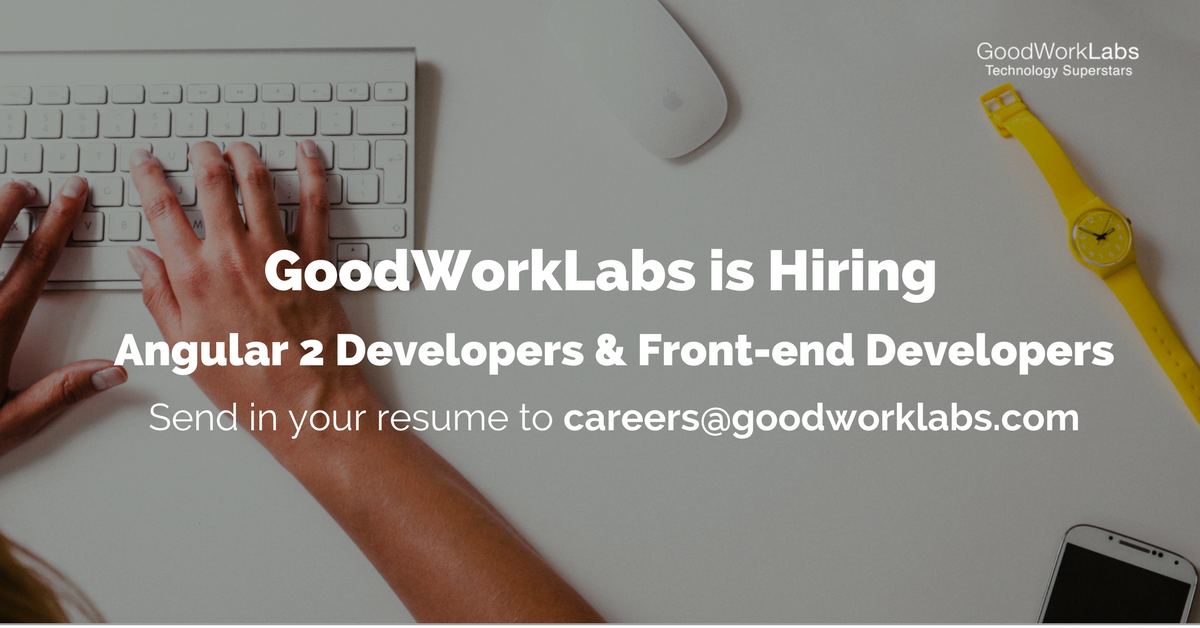 Job description for Angular 2 Developer
1) Should have minimum 3 years of work experience.
2) Excellent programming skills in Javascript, Jquery, HTML 5, CSS3, Angular 1 and 2, Ionic Framework
3) Must have proficient knowledge of software development methodologies and life cycle
4) Excellent verbal and written communication skills
5) Ability to work independently and also part of the team
6) Education qualification: B.E/ B.Tech / M.Tech
Job Description: Front-end Developer
1. Should have a minimum of 3 years of work experience
2. Should be proficient with Angular JS, Javascript, HTML5, CSS3, React, Emben, Typescript
3. Have an enterprising attitude and be a goal-getter.
Preference will be given to candidates who can join immediately or within 30 days!
If you are passionate about technology, then a career at GoodWorkLabs will definitely help you follow your passion!
All the Best!