GoodWorkLabs is a global Google Certified Agency
We are super happy and proud to announce that GoodWorkLabs has once again bagged the coveted title of Google Certified Developer Agency and this is the second time we have been honored with this prestigious title.
In 2017, GoodWorkLabs was one of the few developer agencies across the globe to get selected for this coveted program and in 2018  we continue to remain on the top position by showcasing our expertise in building powerful, beautiful and scalable technology products and mobile applications.
With over 60+ mobile apps listed in the Play Store and consumer applications that have generated millions of downloads, GoodWorkLabs has always been the top choice for both Startups and MNCs. By bagging the Google Certification, we have gained the credibility and validation that we understand Android technologies better than anyone else!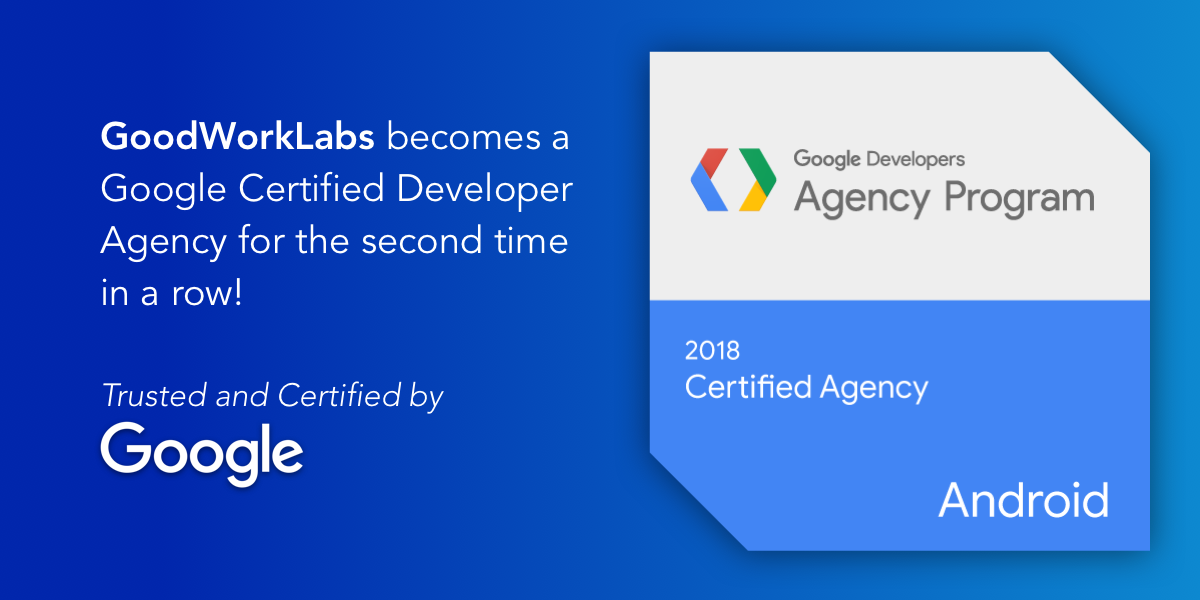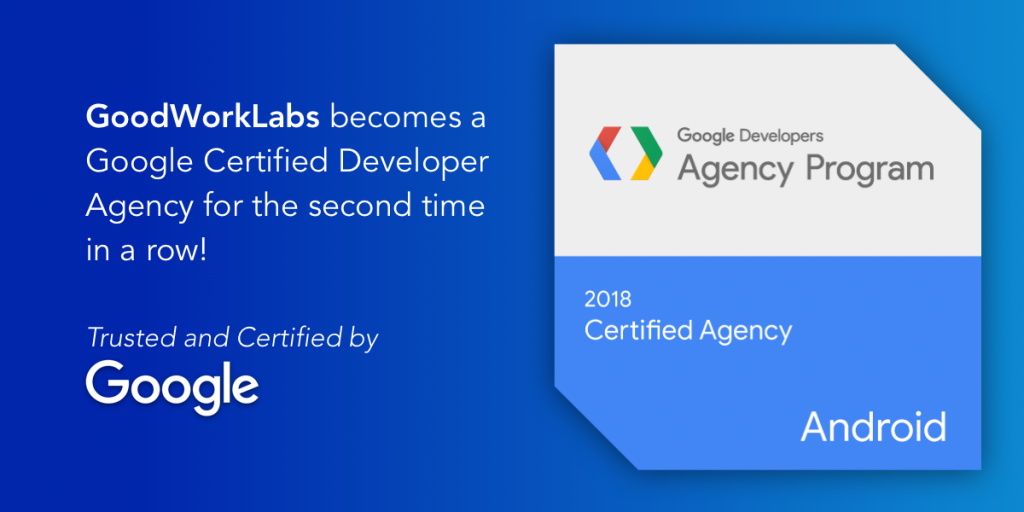 The selection process for certification:
Every year, Google conducts a very stringent evaluation process for agencies to qualify for this coveted certification. Only a hand-full of agencies who have undergone the required training and have demonstrated expertise in building exceptional Android applications manage to get recognized by Google.
This year, GoodWorkLabs was one among the chosen few for the prestigious title of Google Certified Agency. This only goes on to speak volumes about the continuous dedication and innovation that our team puts into designing and developing powerful scalable Android technology and mobile apps.
Here is the list of the top Google Certified Agencies for 2018: https://developers.google.com/agency/directory/
"We are ecstatic to have secured the Google Certification title once again and to be part of an ecosystem that understands and excels at building Android technology. Getting recognized by Google for our expertise at building Android technologies is not an easy task. And the very fact that GoodWorkLabs exceeded the high-quality benchmark set by Google once again speaks volumes about the ability to reimagine design and technology processes to create path-breaking products for the future. At GoodWorkLabs, we break the conventions, we question the status quo, we reimagine everything and bring the future to life. That's how we make products that stand out and that's what Google looks out for in its core partners."
– Vishwas Mudagal, MD GoodWorkLabs
"There is no bigger certification than Google for an agency. It's akin to the Gold Standard in the industry. Being able to consistently live up to our title of a Certified Agency speaks a lot about the culture at GoodWorkLabs. Years of effort in perfecting UX and technology and a vision to build apps that touch the lives of millions of users have brought us here today."
– Sonia Sharma, CEO GoodWorkLabs
We at GoodWorkLabs are constantly innovating and building powerful technologies to help businesses excel. Partner with us and we can help you build a platform that will scale up your business model.
You can view our portfolio here