GoodWorkLabs is a world-leading software product development company with a core focus on building scalable and world-changing products for our customers. By growing at 500% y-on-y, we are the 3rd Fastest growing tech company in India (by Financial Times). Our customers include Apple, Google, Mercedes-Benz, Flipkart, Paytm, Standard Chartered & HUL among others. Further, the company drives tech work for most of the unicorns in India.
With continued growth, GoodWorkLabs will hire fresh graduates in 2022-23 from Engineering and Design backgrounds across India to build products and solutions for its in-house platforms and offerings, apart from deploying them on client-based product development projects. 
Netskill, which is an AI-driven platform to train students and professionals on "industry skills" to make them productive from Day 1, is being mandated as an exclusive recruitment and training partner to recruit freshers for GoodWorkLabs.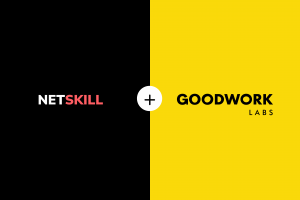 "While we do a lot of fresher hiring through campus recruitment and off-campus placements, we are unable to bridge the skill gap between what our cutting-edge projects need and what the fresh graduates have while they come out of colleges or even training institutes,' said Sonia Sharma, CEO of GoodWorkLabs. 'Understanding of core industry level cloud architecture, DevOps, Agile / Scrum methodologies, Microservices backend, TDD, pair programming, etc. are must-have skills that we expect and want graduates to have in order to be productive. Netskill Academy's Fullstack Development curriculum and AI platform are the best in the industry and will ensure graduates are certified with relevant skills for us.'
Netskill will roll out the placement tests and training for GoodWorkLabs to colleges across India in 2022 and 2023 with this mandate. 
Reach out to Netskill Academy to enrol in the placement drive.