It should not be a surprise to people that business writing is no longer just about jargon filled theories and observations. There's a new wave of business writers and they're changing the perception of business literature forever. By bringing in elements of fast paced storytelling and building business theories around a riveting narrative, they have elevated traditional business literature to a creative art form.
Over the past few years, business leaders, young entrepreneurs, and even those outside typical managerial fields have taken to the fray of writing and publishing in the Business Literature genre. But unlike the Business Literature of the past, these new writers are doing something slightly different – they have managed to incorporate an element of creativity to the genre. This has made all the difference in the way people have perceived business literature, that it need not always be vastly complex theoretical concept stuffed into a 300-page book, but that it can also be a fantastic reading experience.
The Bangalore BizLit Fest has set a precedent like no other in incorporating neo-managerial literature into the mainstream audience. Being India's only business literature festival, the Bangalore BizLit Fest promotes readers to put forth their ideas on paper, and showcases writers who have gone on to write unconventional but impactful business books. GoodWorkLabs CEO, Vishwas Mudagal with his book Losing my Religion, is a great example of how young minds have gone on to write national best-sellers that are inherently BizLit.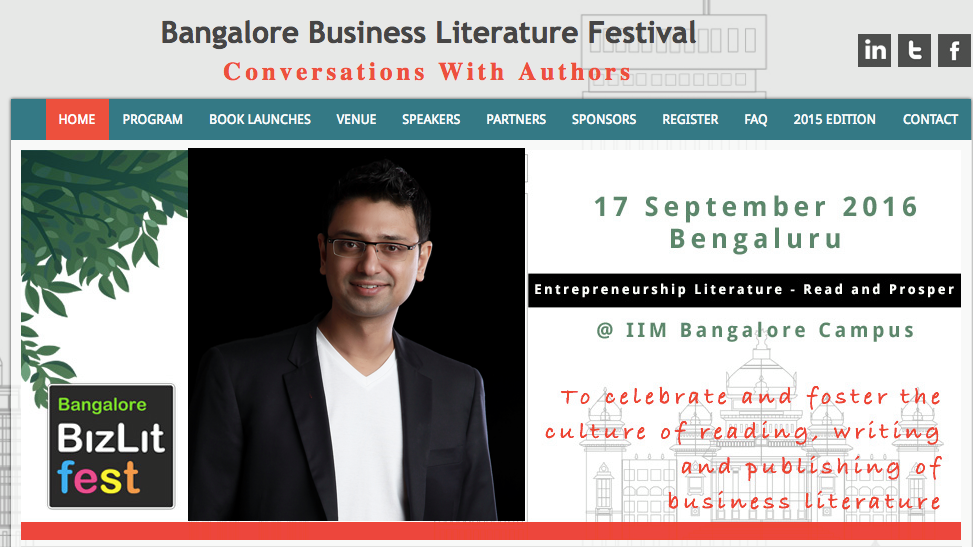 IIM Bangalore is hosting the second edition of the Bangalore BizLit Fest 2016 on the 17th of September. With guest speakers like Ramchandra Guha, Devdutt Patnaik, Mukesh Bansal, and Prof. Anil Gupta, it not only is a star studded event, but also takes a noteworthy step towards a positive shift in promoting mainstream business literature.
The event provides a platform for business leaders, educators, aspiring writers, and young working professionals to interact in a space of learned discussion and knowledge sharing. With this year's focus being on Entrepreneurship Literature, the Bangalore BizLit Fest is all set to capture widespread viewership in the IT Capital. So join us, as we discuss business, management, publishing, technology, and a lot more.