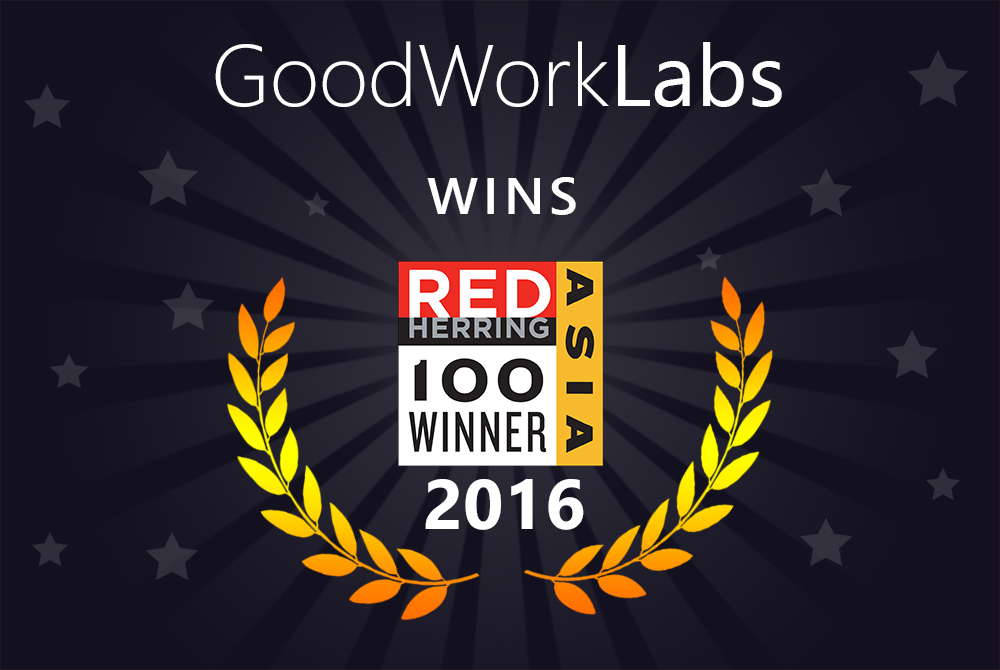 Bangalore/San Francisco – 21st September 2016
GoodWorkLabs announced that they have been awarded the Red Herring Asia Top 100. A prestigious recognition, Red Herring is one of the World's Leading innovation and technology magazines. Hand-picked by their editorial board for being one of Asia's most promising companies set to take the tech world by storm, GoodWorkLabs set themselves apart as thought leaders in the sphere of web, mobile, and software development.
Since 1996, Red Herring has made a mark in the world of business innovation for recognizing promising companies that are breaking boundaries and showing rapid development in their space of expertise. Red Herring Asia Top 100 2016 enlisted over 2000 privately financed companies in Asia, and through rigorous benchmarks based on both quantitative and qualitative criteria, such as financial performance, technological innovation, business model, and market penetration, awards the Top 100 for their exceptional growth and promise.
Vishwas Mudagal, CEO and Co-Founder, GoodWorkLabs said, "We are honoured to have been declared winners for this most prestigious award that recognizes the fastest growing and the most innovative companies in Asia. We have grown tremendously since the last year and continue showing a positive revenue growth of 500% year on year. With this rate of growth, we have on-boarded large-scale clients globally and will continue to design and build futuristic technology for the world."
"In 2016, selecting the top achievers was difficult as always," said Alex Vieux, publisher and CEO of Red Herring. "The variety, depth, disruption and traction we saw from the early stage companies to those with significant scale made 2016 a great vintage to judge. The Asia winners are representative of the amazing ecosystem that never ceases to astound, with new and experienced entrepreneurs continuing to push the barriers of innovation. As one of the winners, GoodWorkLabs should be proud of its accomplishment."
Here is a complete list of Red Herring Asia Top 100 2016 Winners.