Economic Times, India's top financial daily, wrote an exclusive coverage on the inspiring and incredible story of GoodWorkLabs and how it has grown 500% year-on-year with revenue over the last three years. Read the full coverage here on the growth story of GoodWorkLabs.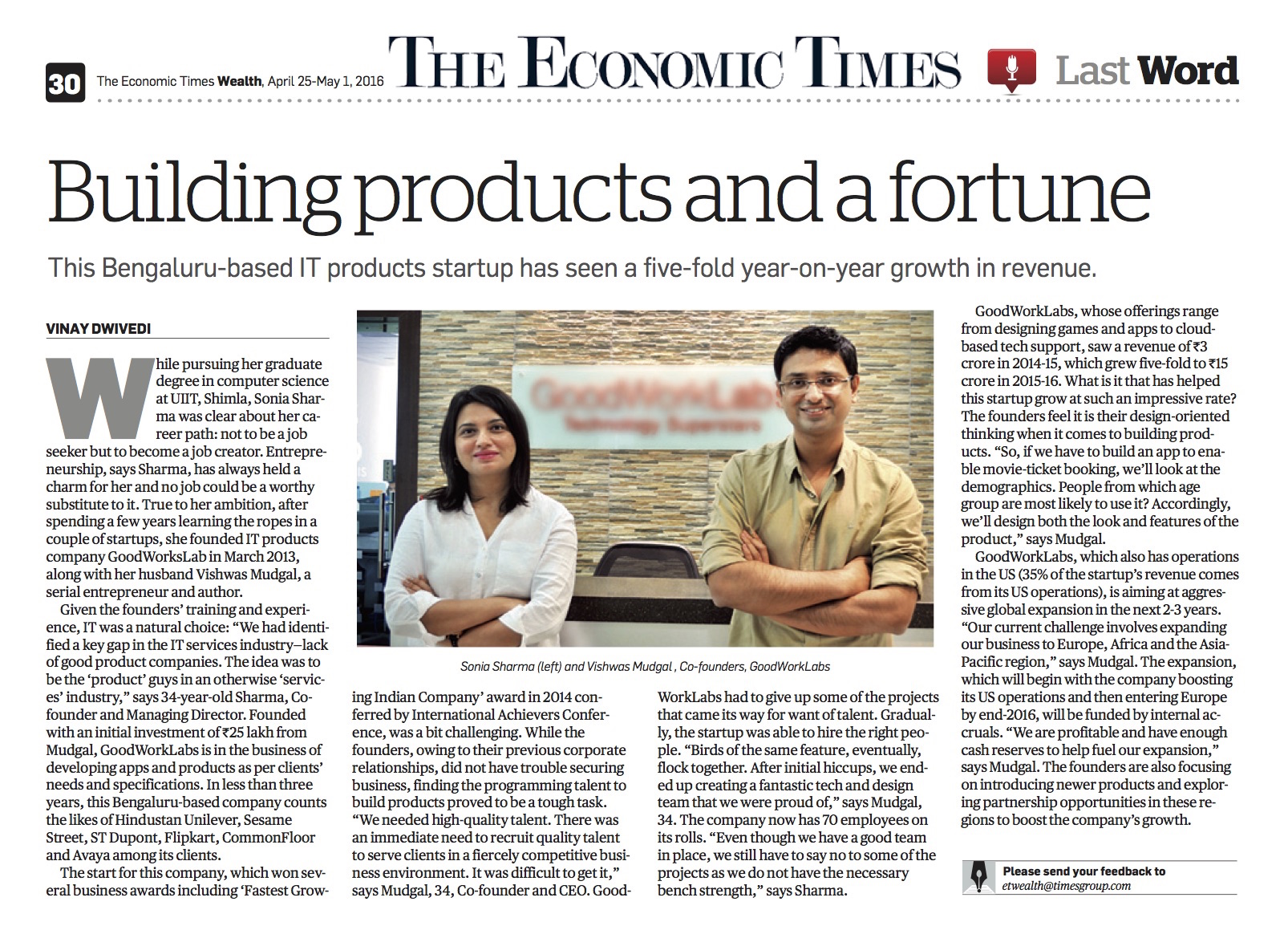 Excerpts from article here –
While pursuing her graduate degree in computer science at UIIT, Shimla, Sonia Sharma was clear about her career path: not to be a job seeker but to become a job creator. Entrepreneurship, says Sharma, has always held a charm for her and no job could be a worthy substitute to it. True to her ambition, after spending a few years learning the ropes in a couple of startups, she founded IT products company GoodWorksLab in March 2013, along with Vishwas Mudagal,  a serial entrepreneur and author.
Given the founders' training and experience, IT was a natural choice: "We had identified a key gap in the IT services industry—lack of good product companies. The idea was to be the 'product' guys in an otherwise 'services' industry," says 34-year-old Sharma, Cofounder and Managing Director.
Founded with an initial investment of Rs 25 lakh from Mudagal, GoodWorkLabs is in the business of developing apps and products as per clients' needs and specifications. In less than three years, this Bengaluru-based company counts the likes of Hindustan Unilever, Sesame Street, ST Dupont, Flipkart, CommonFloor and Avaya among its clients.
The start for this company, which won several business awards including 'Fastest Growing Indian Company' award in 2014 conferred by International Achievers Conference, was a bit challenging. While the founders, owing to their previous corporate relationships , did not have trouble securing business, finding the programming talent to build products proved to be a tough task.
"We needed high-quality talent. There was an immediate need to recruit quality talent to serve clients in a fiercely competitive business environment . It was difficult to get it," says Mudgal, 34, Co-founder and CEO. GoodWorkLabs had to give up some of the projects that came its way for want of talent. Gradually, the startup was able to hire the right people .
"Birds of the same feather, eventually, flock together. After initial hiccups, we ended up creating a fantastic tech and design team that we were proud of," says Mudagal, 34. The company now has 70 employees on its rolls. "Even though we have a good team in place, we still have to say no to some of the projects as we do not have the necessary bench strength," says Sharma.
Read full story on Economic Times here.