Where user-centricity and seamless interactions are essential, optimizing User Experience (UX) design has become necessary for the success of any digital product or service in the digital age. UX design is focused on fostering effective, satisfying, and positive user-interface interactions. This blog explores the best practices that can take UX design to new heights and guarantee the development of intuitive, captivating, and user-friendly experiences.
1) User centered design approach 
Prioritizing users is the foundation of outstanding UX design. 

Developing designs that resonate with the target audience,entails understanding their needs, preferences, behaviors and challenges. 

Insights are gathered through in-depth user research and user personas are created to personify the audience. 

Users and the product can develop a strong emotional connection when designers take the time to understand their needs and empathize with them.

 By laying the groundwork for designs that cater to people on a personal level, this method raises user satisfaction and engagement over the long run
2) Clear and consistent navigation 
The key to a seamless user experience is simple, clear and consistent navigation. 

Establishing a logical and intuitive navigation system that capitalizes on well-known user patterns must be a top priority for designers. 

Maintaining consistency in menu positioning, labeling and organization across different pages or screens is essential. 

This smooth navigation enables users to easily find and access requested content, reducing any possible aggravation and boosting general satisfaction. 

By following these guidelines, designers help users navigate the digital interface smoothly, enabling them to interact peacefully with the good or service and nurturing a long-lasting sense of contentment.
3) Responsive and mobile friendly design 
In  today's mobile-centric world responsive design is a must. 

You must make sure that your design adapts to various screen sizes and orientations without losing any of its functionality or aesthetic appeal. 

Adopting a mobile-first strategy is crucial because it ensures that people can access and interact with your product without hindrance, regardless of the device they choose to use. 

This strategy recognizes the various ways people interact with technology while also improving accessibility and diversity.

 Responsive design increases user happiness by offering a consistent and optimized experience, whatever of the platform they're using, by taking into account the various dimensions and capabilities of devices.
4) Streamlined onboarding
In UX design, first impressions lay the groundwork for creating lasting impressions. 

Effectively communicating to users the value and capabilities of the product requires a quick onboarding process. 

Make sure the onboarding process is quick, interesting and interactive. 

Over-informing users can be avoided by employing the progressive disclosure technique, where features are gradually added. This tactic keeps people engaged while simultaneously preventing information overload. 

By ensuring a seamless beginning, bounce rates can be decreased as the foundation for ongoing user involvement is laid. 

In essence, a seamless onboarding procedure lays the groundwork for user satisfaction and a lasting relationship with the product.
5) Minimize cognitive load 
The secret to user engagement is simplicity.

 The experience can be made simpler by segmenting the material into easily digestible chunks and utilizing visual hierarchy.

 Draw attention to important aspects by emphasizing on them while reducing distractions. 

Keep typeface, color schemes and layout consistent to create a streamlined, cohesive experience that doesn't overwhelm users. 

By following these guidelines, you not only lessen cognitive load but also improve users' capacity for information processing and fluid interaction. 

This strategy promotes a more engaging and intuitive experience, allowing users to easily move around the interface and increasing their likelihood of long-term engagement with your product or service.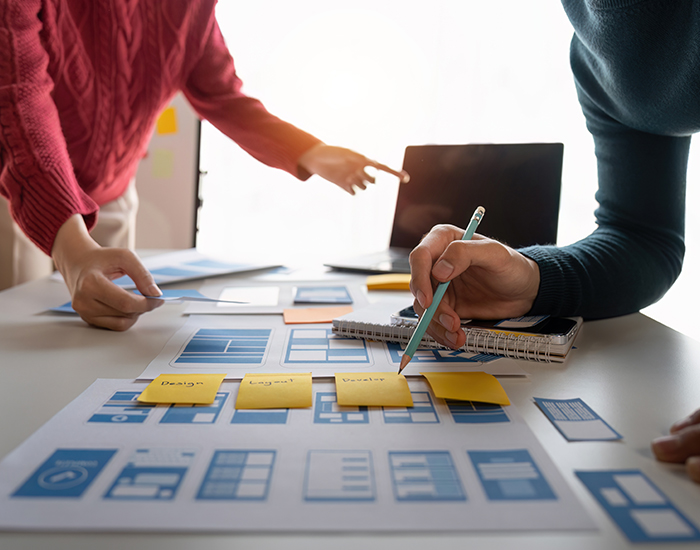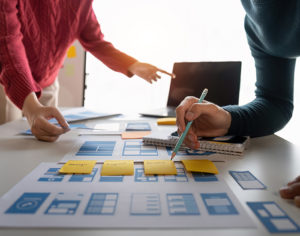 6) Optimized page speed 
In the digital world, users have little patience, and slow loading might turn them off. 

Placing an emphasis on page performance optimization is essential for providing a responsive and effective experience. 

Speeding up loading times can be accomplished through decreasing HTTP requests, using browser caching and compressing pictures. 

A quick experience not only makes users happy but also improves search engine results. You can foster an environment where people are engaged and satisfied by making sure your digital offering loads quickly and reacts quickly to user activities.

Fast-loading websites are preferred by search engines, which increases your online visibility and eventually helps your digital presence succeed.
7) Accessibility for all 
Inclusive design is both a moral duty and a legal mandate. 

It's important to produce designs that adhere to the Web Content Accessibility Guidelines (WCAG) and are accessible to users with disabilities. 

This entails including alternative text for images, providing keyboard navigation options and assuring screen reader compatibility. 

By putting accessibility first, you not only reach a wider audience but also make a significant contribution to creating a more equitable and just digital world. 

Inclusivity provides a sense of belonging for all users, supporting the idea that everyone should have access to and benefit from technology.
8) User feedback and iteration 
Feedback is a priceless tool for improving UX design. 

Create channels for users to provide feedback and carefully evaluate any comments they may have. 

Utilize analytic tools to continuously evaluate user behavior to identify problems and potential improvements. 

Continuous advancements made possible by iterative design are in line with the shifting needs of users.

 A collaborative relationship is developed, enhancing user happiness and creative solutions, by fostering an environment where user input is appreciated. 

A user experience that is consistently responsive, compelling and customized to their developing preferences is made possible by this dynamic interchange, which ensures that the design remains attuned to consumers' evolving expectations.
9) Usability testing 
Usability testing is an important benchmark for assessing the success of designs. 

Engage real people in using your product while carefully observing their interactions. 

This procedure reveals potential friction spots, sources of uncertainty and stumbling hurdles. 

The design can be improved by utilizing the knowledge gained from usability testing, leading to the development of a more user-friendly and intuitive product. 

You may improve the design to better reflect the tastes and behaviors of real users by immersing them in the testing phase. This gives you priceless insights into their real-world experiences. 

With this strategy, the finished product will resonate well with people, providing a seamless and satisfying experience.
10)  Aesthetics and visual consistency 
Aesthetics have a big impact on how users feel and perceive things.

 Aim for a design that is striking and supports the essence of your brand. 

Keep the typeface, color palette and design elements of the interface consistent. An interface that has been thoughtfully created improves user satisfaction while also conveying competence and dependability. 

 A connection between customers and your brand is established, through a uniform visual language , increasing user engagement and trust. 

A well-executed design not only creates a pleasing aesthetic experience, but it also increases the brand's authority and credibility, giving users a lasting positive impression.
In today's oversaturated digital market user experience has the potential to be your product's main point of differentiation . Users will engage with and promote your product if UX design is approached holistically, using user-centered principles, intuitive navigation, accessibility and iterative upgrades. You can develop a remarkable user experience that has a positive lasting effect by emphasizing on user needs, providing simple interfaces and continuously improving your design through feedback.
At GoodWorkLabs, we specialize in crafting interactive and user-centric UI/UX designs for mobile and software products. Our solutions cater to diverse enterprise needs, delivering engaging user experiences across devices. Our commitment lies in aiding your software development journey by creating applications that excel. Renowned tech industry giants like Apple, Flipkart, Google etc, repeatedly choose us for our impressive UI/UX design and development services With a skilled team and vast experience, we curate visually appealing and navigable designs. Backed by a remarkable portfolio, a stellar track record, and unparalleled work ethics, we stand as one of the foremost companies for UI/UX design and development services globally.
Our expertise extends to various domains. In mobile app UI/UX, we've successfully developed user-friendly applications for brands like CommonFloor.com, Phoenix Marketcity, and Sesame Street. Whether it's Android, iOS, or Windows, our proficiency spans all platforms. To get help building interactive and user-centric UI/UX designs contact us or visit our website to learn more.