Chat Bots – the next big thing?
With the dramatic surge in the number of apps and ever-decreasing screen sizes, users have arrived at a crucial point of technology evolution. It's the age of 'OS + Apps' paradigm, where downloading, installing, and managing applications have become tougher than ever.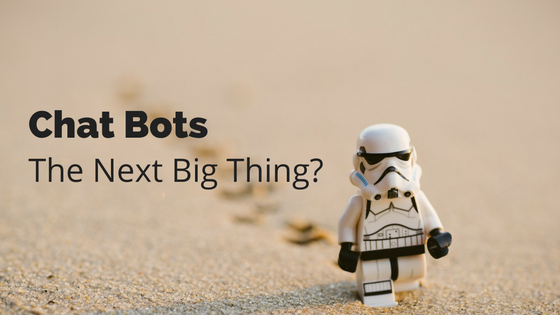 In such a challenging situation, what other forms of customer interaction can replace your traditional mobile app based support system? With the saturation reached by mobile apps, which other form of communication can keep the engagement alive and yet be a cost effective solution for your company?
The answer is – Chat Bots residing within messaging applications
Messaging apps and chat bots are substituting the mobile OS big time, thus bringing a new change in the app development arena.
Chat Bots are the latest technology trend
Chat bots replacing mobile-app technologies isn't a new affair. The tech arena has always undergone crucial transformations, and this happens to be one of them. Trends began right from the 90's when browsers came as alternatives to desktop OS. Websites substituted client applications, and today we come across bots replacing mobile app OS.
It's here that users witness the emergence of innumerable applications such as Line, WeChat, Telegram, Slack, and Facebook. You can interact with 3rd party services from within the application interface.
Developers have the opportunity to create messaging bots, which lay the foundation for a new and innovative trend.
How Chat Bots are like Humans:
With the ever-increasing popularity of messaging bots, users have quite a few crucial questions popping up in their minds.
What makes Chat bots so important? Let's take a look!
Bots can replicate human actions while writing, reading, and receiving messages
Users can program a bot to perform automated functions
From initiating actions to sending responses, bots can execute critical functions
From automating functions and workflows to operations, bots can perform numerous functions.
Messaging bots have revolutionized various sectors. While e-commerce bots help you make purchases, food bots help you order food, you will also receive relevant content pieces from content bots. In a nutshell, chat bots bring us to a new age of integrated and automated operations.
They replicate human actions, and that's what makes them special.
Chat Bots lead to effective messaging architecture:
Bots are finding applications in diverse operations. Quite naturally, this diversity in use cases leads to effective messaging architecture. Depending on the situations and requirements, messages should be re-structured. The NLP feature or Natural-Language-Processing capability of bots ensures successful human interactions.
Benefits offered by chat bots:
With the exceptional, innovative, and highly functional features of messaging bots, customer support mobile apps seem to be heading towards a farewell. Users will now have functional and interactive bots enabling effective communications and interactions.
Bots also have the opportunity to track user responses by creating customized messages. Whether it's a simple workflow or critical transactions, bots can ensure successful mapping of these operations onto the framework.
Our final verdict!
There's no denying the benefits offered by messaging bots. Apart from ensuring integrated operations, these Chat Bots de-clutter and revolutionize mobile experiences. Whether it's knowing information or responding to something, bots will prove to be the best alternative to mobile app OS!