Technology Trends in 2018
Digital experts and tech giants have always talked about the importance of innovative computing technologies. These processes and methodologies will develop and bring down market costs to a great extent. The opportunity to innovate interactions will initiate organizational growth. Every organization would like to stay ahead of the growth curve, and that's where they need the support of unique technologies.
What do the statistics state?
When it comes to assessing the growth and development of technologies, there's no denying the contribution of tech giants like Apple, Amazon, Microsoft, Facebook, and Alphabet. These ventures together contributed a lot to the total market gains. In fact, federal investments in the digital market will touch the $95 billion mark by 2018. Now, we know how the technology market is going to shape up in the coming years.
Identifying the promising and prospective technologies at this juncture will be a great thing to do. We must have a look at the four exciting technologies that are expected to leave a mark in 2018!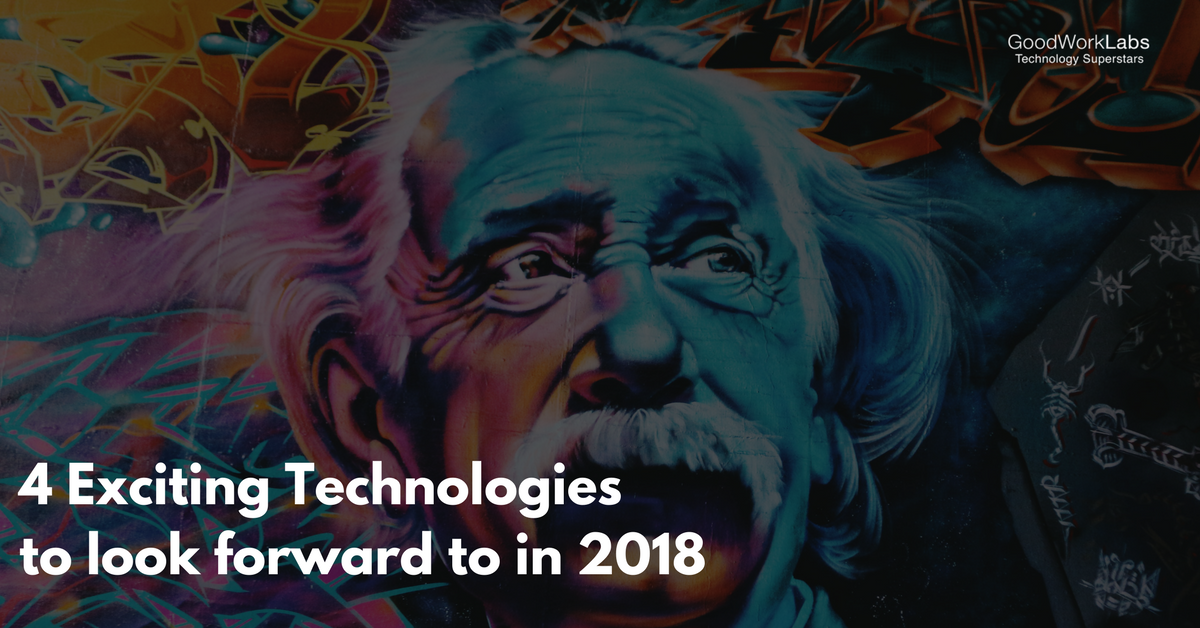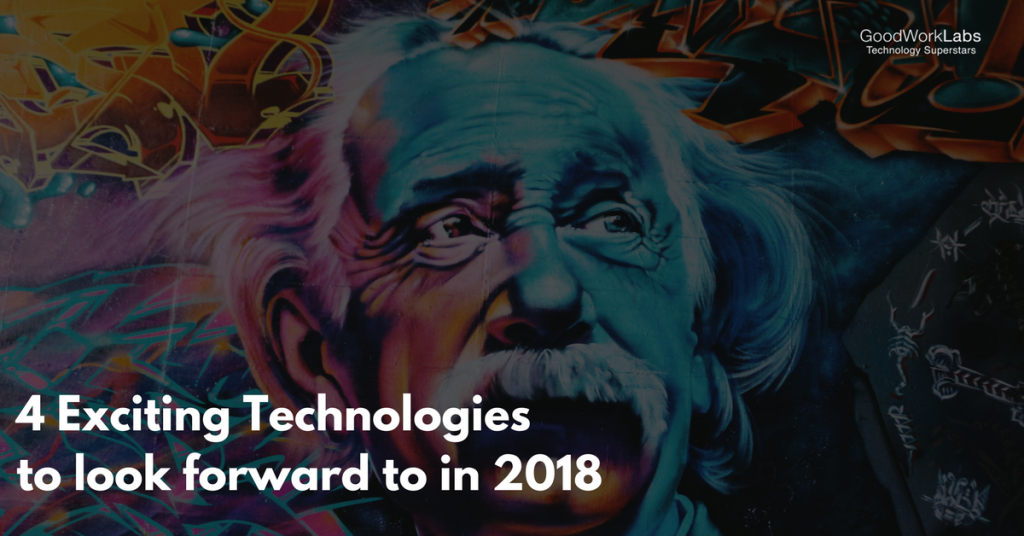 1. IoT
Internet of Things is crucial, and it's here to stay. According to market sources, a whopping $6 trillion will be allotted for IoT solutions within five years. If we take a look around, we will surely come across numerous smart homes.
People are already living in smart homes, waking up to smart alarms, and having smart voice assistants at home. The trend will increase over time, and the time isn't far when every process will get automated. Internet of Things has already made an indelible impact, and it will continue to rule the tech arena in 2018 too!
2. Virtual Reality
It is highly imperative to track the growth of VR in 2018. Revenues of VR content will rise from USD 2274.24 million (2017) to USD 13964.98 million (2020). Head Mounted displays revenue too will rise from USD 3243.12 million (2017) to USD 6498.26 million (2020).
Although, this particular technology is taking giant strides towards development, there's still room for improvement. Creation of attractive content and high-value services would be important. VR will stay, grow, and excel if experts innovate and improvise the VR-supported modules.
3. Chat-Bots
Enterprises across the globe consider customer service to be an integral aspect of their services. Consumer satisfaction is highly important, and this is where smart consumer-facing chat bots making all the difference to the CX industry.
Chat bots humanize machine interactions, thus helping you develop a personalized camaraderie with consumers on the other end. Advanced bots also leverage AI to ensure interactive UX. Looking at its ability to generate business with 47% of the consumers, the trend will surely grow and reach new heights by the end of 2018!
4. Augmented Reality
With the two most popular tech giants, Google (ARCore) and Apple (ARKit) making the first move, startups and other ventures will try their best to invest in AR. The sector is expected to grow in the next 4 years to touch $83 billion per year by 2021. The top brands are already planning to incorporate AR strategies looking at this disruptive trend.
Signing off
These trends will determine the market for innovative technologies in the coming year. If you are working in the digital sector, it's high time to wait and watch out for them!