How Staff Augmentation can help your Business
Having a tough time hiring nerds every week?
Can't get your hold on the cream talent of the mass?
Working in an IT firm means the staff turnover ratio is quite high. We have only one straight simple solution for all your hiring related worries – Outsource!
At GoodWorkLabs, we have helped both startups and fortune 500 companies with their technology needs by providing them with the right resources. Be it popular, on-demand, or niche skills, we have helped thousands of clients achieve their product development needs by deploying the best talent pool.
Not just that, GoodWorkLabs has also helped companies set up large teams in design, development, and QA with a concentrated staff augmentation strategy.
In this blog, we share FIVE reasons why you should outsource your tech requirements.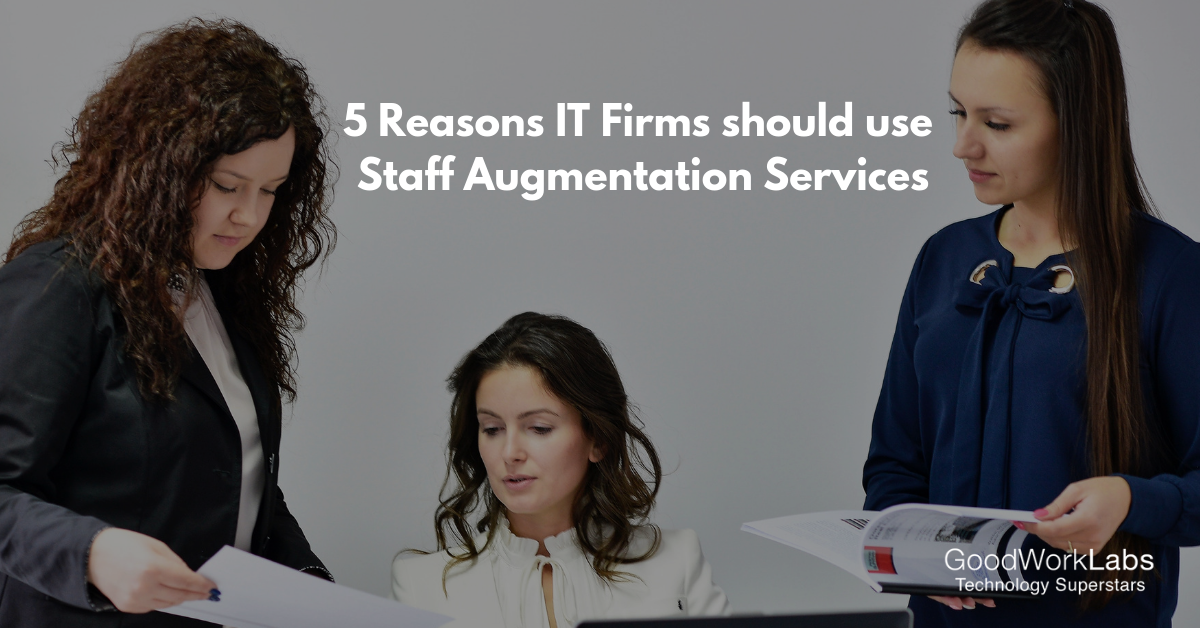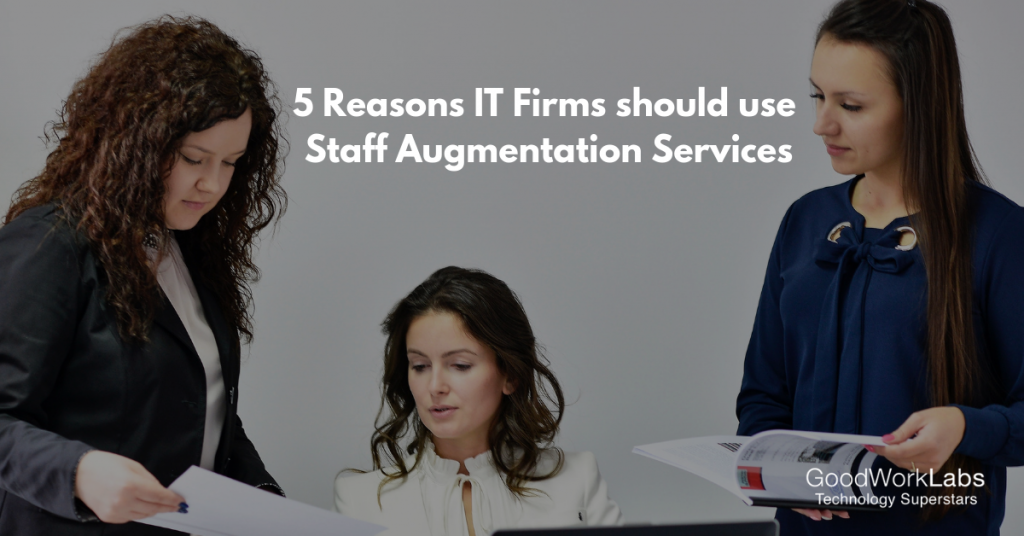 1. Massive reach of a highly-skilled talent pool
Consulting or staff augmentation firms have a grip on both the active and passive market. While an active resource pool is accessible to all, the real cream of talent sits in passive markets that are mostly untapped. Here is where outsourcing to a staffing firm makes all the difference to your hiring process.
The reach of consulting firms is much higher and you can hire highly skilled professionals easily. We all want technology experts to work on ever-changing product demands. Hence, it definitely makes business sense to outsource hiring.
2. Credibility with hiring managers
Staffing firms often work with the same hiring managers in order to keep the trust factor high. Corporate recruiters, on the other hand, work with several hiring managers. This trust factor and credibility is leveraged by the staffing firms and they continue to source better candidates for a given profile in comparison to the corporate recruiters.
3.  Longer guarantee periods
The best add-on benefit that comes with using staff augmentation services is that they offer an employee guarantee of 6 months to 1 year.  This is a great assurance and also a big relief to the IT firms as usually the minimum project length is 6 months. Businesses will be able to complete at least one project with the resource in the minimum guarantee period. 
4. Very Flexible and Cost-effective
The compensation of the staffing firm depends on the placement and not on how many candidates they managed to schedule for an interview. One of the biggest advantages of outsourcing your technology needs is that you enjoy the flexibility of utilizing a resource. From 6 months to 2 years, you can choose to renew your outsourcing contract and not worry about having too many resources on bench.
The staff augmentation model is very cost-effective as well. You don't have to worry with admin and other employee onboarding costs as all of this will be taken care of by the staffing agency.
5. More consultative and less transactional
The primary aim of a technology consulting company is to find resources that are passionate, skilled, and are the perfect fit for your organization. Rather than being transactional, they go over and beyond to hand-pick candidates who will support your business in the long-run.
"Build relations and not quick transactions."  At GoodWorkLabs, we give quality of candidates the highest priority.
Final Takeaway
Using the services of a high-quality external recruiting firm should be in your talent acquisition strategy if you are an IT firm. Instead of forcing these firms to stick to your internal control policies, leverage their potential of finding the best resource for you. Look at staff augmentation services as a multi-year investment that will continue to give you ROI. 
Get a gist of the consulting services provided by GoodWorkLabs and if you would like to get a free consultation on your outsourcing needs, then contact us.