A web application framework is used to design a web based application that can be accessed by all devices. PHP has the most extensive and popular list of PHP frameworks when it comes to web application development because it uses a very simple coding language and apps with this framework have a versatile outlook. Take for instance Facebook – Yes, it is the biggest open source web application based on this framework.
The best possible way to choose a PHP framework is to analyse the purpose of your application first. For example, there is no point picking a Ferrari supercar for an off-road event where you will have to travel in rough conditions. Yes, Ferrari offers the best and the most expensive cars in the world but they are supposed to travel on evenly laid tarmac, not through dust and stones. Similarly, you can spend millions on the most expensive framework possible but if it is not in sync with the aim of your application, it is useless. Here are a few other things that you should keep in mind while choosing a PHP framework.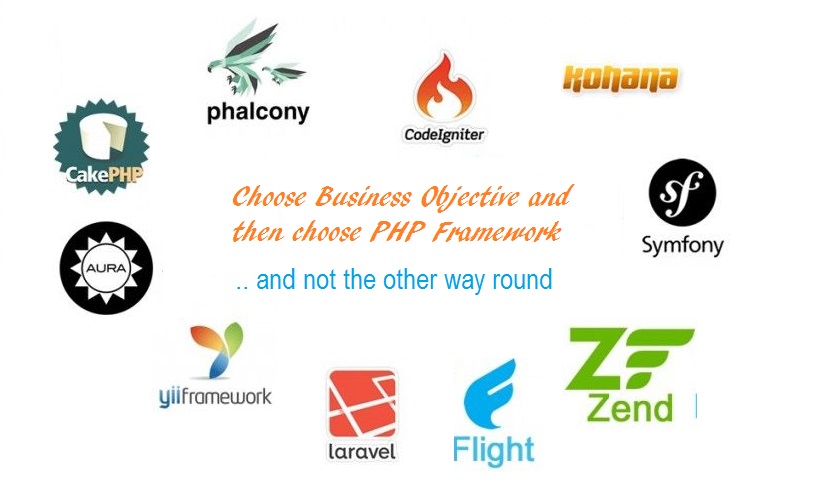 Online Payments
An application with the option of online payment requires a dedicated framework in order to provide a secure and hassle-free payment mode. You need to make the users feel that their credit/debit card details will be confidential, and for that, you need to use a framework which keeps all data within it and stops unauthorised access to the database. Magento and osCommerce are the two popular frameworks along with Zend.
Noteworthy example – Flipkart, the biggest e-commerce player of India, uses Zend framework.
Number of images
If you are looking forward to build a rich web application full of graphics and images, then you should opt for Ruby on Rails framework. It is the best PHP based framework in case there are a lot of photographs with links.
Noteworthy example – Slideshare is the best example of a web app based on this framework.
Video Based
Video based app need an interactive framework and PHPmotion is the best thing currently available. The framework is used by almost every popular video sharing apps and is also popular among apps based on music, as well as, photo sharing.
Noteworthy example – Check out YouTube, built on this framework.
Content Rich
Most of the news based websites and other sites having substantial amount of content use WordPress as their default framework. It is one of the easiest frameworks from a development perspective and is popular because of its publishing system. It is also the first preference of bloggers due to its flexibility and wide choice of themes.
Mobile Based
The popularity of smartphones has forced websites to develop a distinct mobile version and a mobile app version. eyeOS is the preferred PHP based framework to be used in this case. It is popular because it adapts to smaller screens and provides a better viewing experience.
Interactive and Dashboard Enabled
Open Atrium is the latest PHP framework witnessing massive adoption. It is popular amongst content rich apps which offers a great visual experience through their dashboard feature. It is also used for providing links to Facebook, Twitter and other social media platform where the app has an official page/handle.