Chatbots and UX Design:
Delivering seamless customer experience is the top most KRA for many web and app developers. But are they really scoring well on this front? How can customers get 24 x 7 support in the face of personnel constraints? How can user engagement be lifted with timely, prompt, and accurate support, right when they need it?
Chatbots emerge as viable answers to address these critical questions.
How does a Chatbot Provide Value to Your Business?
Offers personalized services
Caters key consumer experiences, including Customer Service, Content Interaction, and Productivity
Offers simple, seamless, and engaging platform to consumers
Helps businesses to respond faster to consumers
Assist you to distribute content with higher information dissemination rate
Helps in delivering targeted content as per user's feedback or past records
Works as a source for lead generation
In the future, the platform can be used to incorporate AI and machine learning for responding to customer inquiries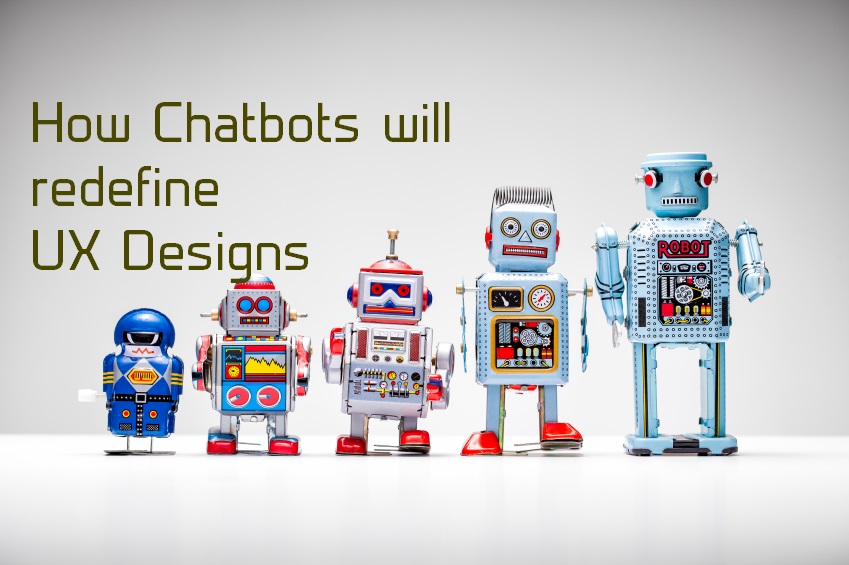 Here is how we feel Chatbots will re-define UX Designs
1. Defines the Problem Clearly
Chatbots are one of the most popular platforms that can help your define your marketing and branding strategies, before you actually invest anything into development. It helps you to identify a user problem that you have a solution for, and can help you analyze its capabilities for being a business opportunity.
2. Helps in Analyzing and Measuring Success
It is agreeable that many game-changing products have not delivered their expected results, just because the development team failed to identify the key performance indicators (KPIs). Since your bot has the capability to impact your business in a positive way, it can assist you to design certain metrics that can assist in showcasing success rates, when pre-defined goals are met.
3. Offers Better Understanding of Customers and their Preferences
The platform assists in segmenting information as per persona groups and develop user stories by deciding with whom the bot will interact, how it will behave, and what purpose it will serve. It not only helps you to understand your target users' feelings, but also assist in customizing the application as per their requirements and preferences.
4. Helps in Deigning UX Conversational Flow
Unlike designing screens, the bot enables you to design a UX conversational flow that will answer queries as per bot's intelligence. In the designing phase, developers will think of all the potential questions, answers, and logic paths that the bot will require communicating with humans in an efficient manner.
5. Ensures a Personalized Experience
Lastly, the most important factor is the bot's personality, and it should link directly to your brand. Start with naming your bot, and work on its presentation styles, appearance, and other vital factors to deliver a personalized experience to your wide and trusted customer base.
Conclusion
Providing a fascinating experience to customers by the way of timely support helps in keeping them engaged with your brand. It can also assist in capturing important details to let your business improve and expand.
Undoubtedly, users would wish to access something that can answer their queries at the earliest and can assist them in better decision-making. If your bot can do that, then it can bring tremendous success to your current business activities and can enhance the chances of overall growth.