Even a decade ago, technology didn't have much to do in the business arena. Especially, when it came down to building effective customer relationships, businesses relied on physical markets to a great extent. The emergence of tech innovations and mobile revolution has entirely changed the present scenario.
Today, customers no longer rely on manual operations and perform most of their purchases on mobile devices. Interactive, easily navigable, and intuitive applications ensure unsurpassed shopping experiences for consumers. That's not all; they bridge the gap between sellers and their target customers across the globe.
Needless to say, the retail market also reaps the benefits of consumer apps. If you wish to know how, here are some pointers that explain the scenario quite well.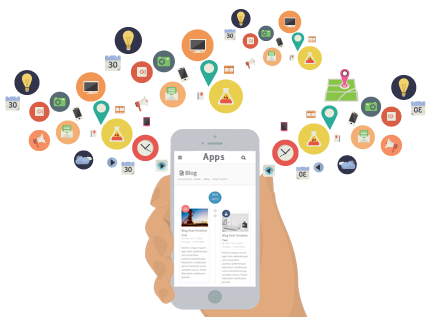 Quick look at stats
Before we delve deep into discussing the nuances, let's turn to stats for a complete lowdown. Social media, gaming, and communication apps are the widely used options. However, there's a different dimension to this story. According to reliable stats, an average user installs nearly 36 applications on his mobile, out of which 1 in 4 applications remained unused.
That reveals consumer behavior to a great extent. Your target consumers will only use your apps if they meet their expectations. So, how do these consumer apps manage to boost customer-retailer relationships? Take a look!
Apps Determining purchases
Apps play a crucial role in the sales process. When it comes to buying things online, a majority of app users refer to the respective business applications for more information. Out of two users, one relies on apps for making purchase decisions. Nearly 29% of these users leverage apps to take actions. Quite naturally, apps have a lot to do with the entire sales and purchase process.
It's here that businesses and retailers need to sit up and take note of the entire issue. Customers always wish for unmatched browsing and shopping experiences, and that's what these applications help them achieve.
How do apps boost customer engagement?
Since a large number of consumers rely on apps, retail businesses are increasingly investing in app development. By integrating stunning features into their applications, retailers are taking a step towards improving UX. Breeze through the following points and check out what they intend to do:
Push notifications: Sending push notifications through apps will be an effective way to engage consumers. Your target customers will get to know about special discounts and offers.
Incorporating store layouts: App experience today involves the implementation of store layouts. Your customers will know the exact locations of the chosen products, which will surely enhance their shopping experience.
Multiple payment options: The flexibility and ease of payments will make the shopping experience quite enjoyable for users. Multiple payment options will add to their convenience.
Parting thoughts
These are some of the innovative ways retailers are using to transform shopping experiences for the better. We can conclude that apps are playing the pivotal role in ensuring optimum customer satisfaction, thus boosting customer engagement with retailers.