O For Oreo
On 21st August 2017, coincidentally on the day of the total Solar Eclipse, Google has made an official announcement about the new version of Google Android 8.0 Oreo. This latest mobile OS brings many new features and improvement that comprises improved battery life, Picture-in-Picture mode, system optimization, improved security, new icons and emoji and several more.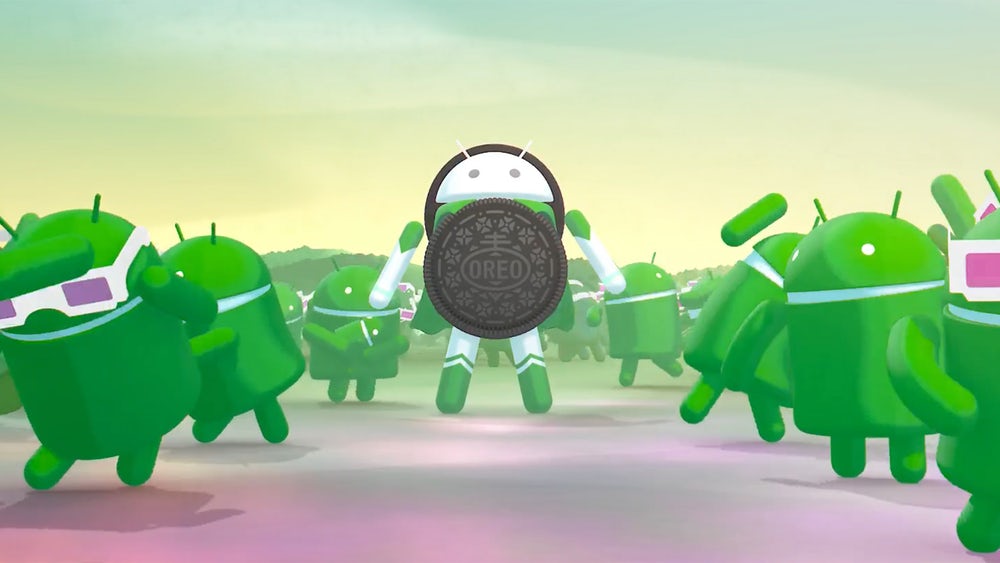 What's new?
A lot of things. There's a feature called Pictute in Picture that lets you watch a video while you are doing other things. This might not seem like a new feature until you realize that it works with YouTube, too. Notification dots have also been added which let you see notifications without launching it by long pressing the app icon. Also, there's a notification snooze option that'll come in handy if you want to deal with some notifications later on but not at the moment. Also, now you can choose what kind of notification you'd like to see. A lot of other stuff, some of which are old things that have been improved, are mentioned below.
Interface changes
For the most part, the UI remains pretty much the same as it is in Android Nougat. There are some changes, though. The biggest change is in the settings menu. To get around easier, some settings have been renamed and relocated. Many of the settings submenus have been redesigned, as well. A lot things can now be seen in one submenu instead of several, which makes it easier to navigate around in the settings. The quick settings is now in grey. Also, the quick settings icon and the profile buttons are now at the bottom of quick settings instead of the top. The emojis are now more colorful and the face emoticons are now round. These are all minor changes that the average user will have no difficulty getting used to. A bigger change, however is the adaptive icons. You can now choose what shape you want your icons to be in. Customization freaks will find this especially exciting.
The seemingly invisible stuff.
A lot of features that come with Android O are under the hood. Bugs from Nougat have been fixed. Android O now offers a wider array of colors that can be displayed, of course, for the devices that support them. A number of new bluetooth codes have also been added natively to Android O. Considering how smartphone manufactures are ditching the headphone jack, these new codecs are going to be especially useful for bluetooth headphones. Android will also limit how apps operate in the background. This will help avoid unnecessary battery drainage by some notorious apps that love to suck your phone's battery (Ahem, facebook). Also, Google play protect is now rolling out. It is not an Android O exclusive and will be available for Nougat and Marshmallow, as well. This feature lets you distinguish safe apps on the play store from malicious ones.
APIs.
A number of new APIs have been added in Android O, which will be useful for app developers and consumers alike. There's a new autofill API for password managers and a new WIFI Aware API that'll let devices communicate with each other without being connected to the same network. Some other APIs have also been added that let external hardware, like keyboards and mice, communicate better with the device. This will be helpful for Chromebooks which now support Android apps.
Here are some of the features in detail:
New Emoticons
We are in an age where smartphone users can converse simply via emoticons—or emojis as they are widely known. Emojis make any conversation a lot more enjoyable. Starting with Android v8.0 Oreo, Android will now come with differently designed emoticons. Previously, Google had 'blob faced' emojis and the inclusion of freshly designed emojis brought mixed reactions from people because some don't like how flashy these newer models are.
Also, with Android v8.0, Google is now compatible with Emoji 5.0. This simply means that Android will now support a whole set of new emoticons including vomit face and dinosaurs.
Battery Life
With Android Oreo, Google has opted to limit background processes of applications when users have multiple apps running on their phone. This limitation is a much-needed move as applications, especially social media ones, consume a lot of battery when running in the background. Also, restriction for apps running in the background results in better performance because it optimises RAM management in any smartphone.
Android Oreo will primarily impose restraints on applications based on what an app running in the background can do.
Smarter Wi-Fi
If you use the Tasker app, you probably have enabled a task which toggles Wi-Fi according to your location. Some of us don't use this application and just turn off Wi-Fi manually. We do this to save our battery or to stay away from any unsafe network. With Android v8.0 Oreo, smartphones running on the latest version of Android will be able to toggle Wi-Fi depending on users' location. Users will be able to set locations where Wi-Fi will be toggled. This feature will surely save time and battery.
Autofill Password
Autofill Password is a feature which has made using Windows easier. Android v8.0 Oreo will also have this feature. With inbuilt AutoFill API, all password manager apps will just fill up passwords according to usernames while keeping the information secure. This feature will surely save Android users from going through the hassle of typing passwords every time.
Adaptive Icons
If you use a pure version of Android on your smartphone, you are probably mad at having to download icon packs just to see some changes in the UI. Meanwhile, your friends are probably rocking some built-in feature which allows them to change their icon shapes according to their wish. There's good news for you! Google is adding 'adaptive icons' feature into its operating system.
Users will now get a chance to choose from five different icon shapes—Square, Rounded Square, System Default (Original), Teardrop and Squircle. With this move from Google, we will now get a chance to see similar icons everywhere.
The smartphone companies have already started to work on getting the latest and greatest from Google for their smartphones. Some major manufacturer giants who are already working on it are companies like Asus, HTC, Nokia, OnePlus, Samsung and Sony. They have already confirmed that some of their devices will receive Android Oreo update as soon as possible.
Are you geared up for some Oreo?