User Engagement is important for your Mobile App
Mobile app developers put in a lot of focused energy on design, development, and testing of a new mobile app.
However, what comes next is often ignored. Right from deployment to cranking up the visibility of the app, there are several crucial steps that can drive your app's success on the app stores. And this is an area that cannot be ignored by any business.
Why?
Because stats have shown that app user engagement forms a big chunk of digital sales and any dip in user engagement over a mobile app has the power to diminish the revenue potential of your business. Flurry says that users spend 90% of their time on apps rather than mobile web. Also with 8.8 downloads per month on average, the popularity of mobile apps will only increase as we move to 2017.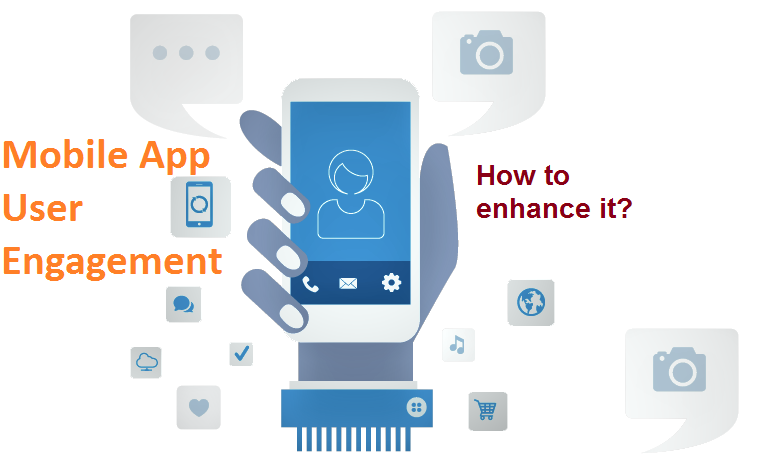 This is why it becomes absolutely vital to keep a high level of user engagement and sustain it throughout the customer's journey on the mobile app.
How to increase User Engagement on your App?
1. App store listing 
While most of the action around user engagement happens within the app, the user's first interaction happens outside i.e. on the app store when he/ she downloads the app. This is the first stage where you have to get it right. This can be done by answering a few important questions like
Why will users download your app
What problems will your app solve for them
What is different on the app that will not be present on your website.
2. App user on-boarding 
Once the initial handshake is done, you need to ensure a smooth on-boarding. So instead of showing screenshots of the app interface, it will be better to have a step by step guide on getting the maximum benefit out your app.
3. The power of gamification 
By gamifying your app, you are making sure to take user engagement to the next level. The sense of competition, rewards, and incentives will only ensure that the user comes repeatedly to the app.
4. Push notification 
With push notifications, you app enjoys memory continuity even though the app access rates may go down. While this works naturally for apps like Whatsapp, it takes some ingenuity to incorporate into other types of apps. So, Musx sends out a weekly compilation of top 10 songs as notification to users.
5. User feedback 
An engaged user will know that he/ she can give feedback easily and it will be heard by the developer agency. Giving easy access to a 'contact Us' button, or FAQ will ensure that users do not go on the app store page and post their poor feedback there. To enhance user engagement further, you can set up automated response mentioning the expected turnaround of resolution too.
Which of these points will form a part of your next mobile app user engagement boost campaigns?
Do write to us and let us know your comments.