Tech giant Google has always maintained a policy of including technology overhauls in major Android updates, and the Lollipop released to developers on June 26 this year is no exception. As an Android smart device user or developer, you might be interested in getting to know the Android L better and know more about its new feature sets. If so, then this blog post is just for you. Here we present some key improvements and new features that come bundled with Android L –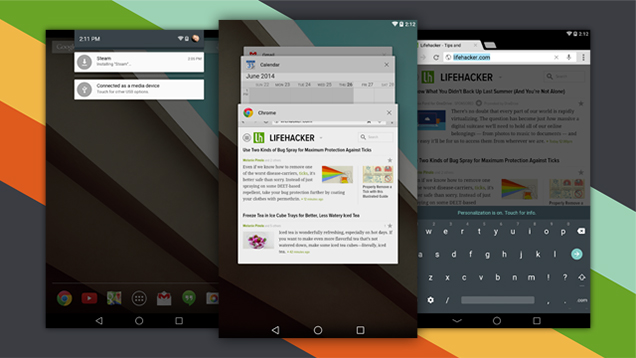 New Design
With Android Lollipop comes Google's latest minimalistic UI design – "material design". With this design, Google has adopted flat style icons for both home screens and the app drawer. Seen before in Apple and Microsoft Windows Phone devices, these flat style icons really add an element of simplicity and elegance to the UI. There is less clutter and more ease in navigation, thanks to this design philosophy being implemented in Android L.
Greater Consistency across Devices
Android Lollipop aims to cut down on the differences of usage and elements across different devices. Previously, there were certain design and functional nuances which were unique to a given phone or tablet brand. With Lollipop, users are set to get a cleaner, more uniform, and consistent look and feel irrespective of their device choice. Display size and resolution agnostic usage is one of the key points that Google wants to highlight with this version.
Fitness Assistant
With Android Lollipop, you can now have all your fitness data in one place. Google Fit integrates with devices like smart watches and health apps, to keep all your fitness data at one place. It is easy to store, recall and process data and fine-tune your fitness regime with the new Google Fit.
Touch Feedback
If you have been an Android user for long, one thing you must have missed is any kind of visual feedback when using the three main soft Android buttons. With Lollipop, Google has included a visual tweak- a simple animation that signals with a transparent circle when the device registers a touch on any of the three Android buttons at the bottom. This is set to make usage more intuitive and fluid.
New Look Gmail
Google has managed to put in a major design revamp for Gmail with Android L. This will make the look more consistent with their "material design" theme. Without looking gaudy or overboard, the Gmail app now incorporates a riot of colors and is a visual treat.
Chrome Tabs in Recent Apps
If you access your recent apps list, you will now be able to see all tabs open in Chrome as separate tiles. This lets you access any particular tab directly, and also to selectively close the tabs you no longer need.
Better Notifications
For your notifications, you now have the option to specify particular interruption rules when you go into the settings menu. These instructions enable you to prioritize notifications from certain apps. It also helps you use your notification system in a much more fine-tuned and customized manner.
New Keyboard
The "material design" philosophy has been brought over to the Android keyboard. The keyboard in Lollipop is borderless. This imparts an elegant look to both the extended keyboard and the dialer. Simple gesture support has also been added for easier operation.