Ever since its launch on 17th September this year, the iOS8 has been making the headlines. It is being touted as the biggest-ever software update from Apple and there are several reasons why the statement can be said to be true. The new platform has been integrated with hundreds of new tools for developers. It also provides nifty features that optimize device speed, productive and offers seamless integration with Mac. Here are some of the small but important features offered by iOS8.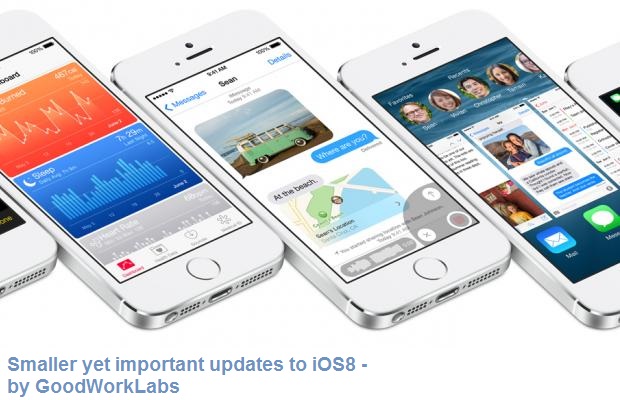 Setting up a Medical ID
Though it seems just like a new (rather redundant) feature, iOS 8 can actually help save your life! Setting up a medical ID will record all important medical conditions of the user including blood group, allergies, emergency contacts and much more. This feature can also be accessed from the emergency dialer of the lock screen without entering credentials. With this critical feature, medical emergency professionals will be able to move in quicker to save your life.
Quick Web search with Safari
Though responsiveness is something that every developer stresses upon, in some situations mobile versions of websites can be really confusing and claustrophobic. The new iOS8 presents a unique solution to specifically ask for the desktop version of a website on your Apple device. Although this feature is already available on Android, but Apple goes one step ahead and integrates its own browser with this capability. To access the desktop version, just tap over the "search bar" and drag it down to access the option for "request desktop site".
Launching Siri Update
While some might speak of it as a clone of "OK Google", it can prove to be rather handy. Further, interacting with the interface gets more engaging. Just call out "Hey Siri" and the application launches on your command. Don't worry about the power consumed when iOS constantly tries to recognize your voice. This feature is very useful while driving since there would be limited background noise to block your voice command.
Battery draining indicators
A common problem for every smart device user is quick draining of the battery. However with iOS8, you will easily come to know how you have been losing out on battery charge. The unique battery tracking feature will list all the apps used in the last 24 hours and the percentage of battery consumed. The list also identifies all apps running in the background. Users who are constantly looking to save their battery for a few more miles can always have a check on the consumption. They can then "stop" the apps that have been draining a lot of battery. Even developers will find this feature useful to make their applications run efficiently.
While these are only some of the features, it still doesn't take away its usefulness. The iOS can be said to be new form of convergence with improved design and efficient programming. If you are using iOS8 on your Apple device, then write in to us and let us know if you were able to find practical application of these features beneficial in your daily grind.