Snap Help
Snap Help is a US-based mobile application for CRM by a start-up named Audetemi. It is a self-service platform for enterprises and individuals. The purpose of the mobile app was to create a simple and easy-to-use platform that changed the way enterprises and customers looked at customer servicing and support.
Services Rendered:
UI UX Design and User Research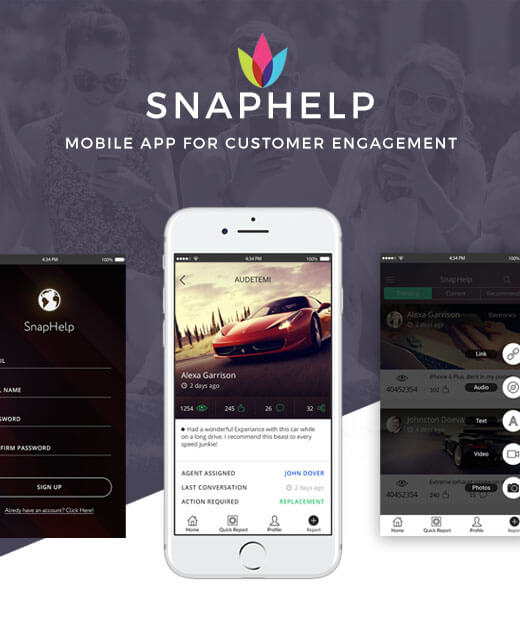 GoodWorkLabs is an award-winning mobile app development company in India, the US, and Europe. The company comes with in-depth experience in building mobile applications that are beautiful, easy-to-use, efficient, and engaging. The company is committed to developing cutting-edge technology solutions that solve real-world problems very effectively. GoodWorkLabs helped Audetemi develop a CRM mobile application that aimed at both – the enterprises and consumers.
Providing great customer experience for consumers is seen as the main aim of all enterprises, however, Audetemi noticed that the products tend to be aimed at enterprises only. They aimed to develop a mobile application directed at consumers which they would offer to enterprises. Therefore, GoodWorkLabs had to address customer support and servicing while developing this app. The challenge here was to create an engaging and intuitive UX/UI that helped users stay connected to the application. Extensive user research coupled with attention to detail helped GoodWorkLabs create an outstanding product for Audetemi. The team at GoodWorkLabs worked on the design for both – the consumer and enterprise side of the CRM application.
"GoodWorkLabs did a good job of designing the user experience. For example, a left-handed person will sweep their thumb from right to left, while the opposite applies for a right-handed person. This is the kind of customization we considered when sketching out the app. I found the right attention to detail with their team. I would say their attention to detail is what sets them aside. They insisted on coming up with a design of their own before discussing my ideas, in order to not influence their designers and to allow them full freedom of creativity. When I showed my colleagues from the Business school of Berkeley the UI designs made by GoodWorkLabs, they appreciated the level of detail present in it. "
– Ashish Joshi, CEO, Audetemi says:
Read the complete review on Clutch.co
Log-in using their email ids
Information can be exchanged with service users via video chat, text messaging, photos, voice, and social media
Audio reports
Helped Snap Help increase user interaction and engagement
Successfully streamlined the process of CRM process
UI UX Design
User Research
GoodWorkLabs – The Most Trusted IT Solutions Provider

Leader in the World.
Recognised by most trusted awards.