SGS Posts is a spiritual mobile app designed & developed by GoodWorkLabs for Sri Ganapathy Sachchidananda Swamiji (SGS Raga Sagara) that focuses on the reformation of society, helping the needy while establishing peace and happiness among mankind.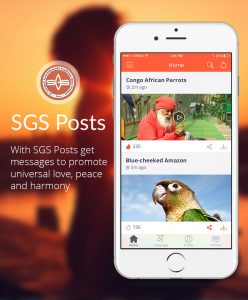 Technologies used:
Android Native (JAVA)
GoodWorkLabs team has designed and developed this spiritual mobile app with amazing features such as a timeline where you will receive spiritual and helpful life messages, which is complemented with a feature that allows you to choose language-specific messages. It also incorporates some personalized messages just for you by the Swamiji to get you up and running for a beautiful day ahead.
GoodWorkLabs' dedicated team has customized this app as per the requirement of our client and has added all the necessary features that are needed to keep their audience engaged.
The App sends out a personalized message to individuals straight from Swamiji.
The app features a timeline that fetches spiritual messages.
GoodWorkLabs – The Most Trusted IT Solutions Provider

Leader in the World.
Recognised by most trusted awards.