Designed by GoodWorkLabs UX Design Studio, Oye Life! is an uber-cool social discovery app for events and activities around you or any city you choose to visit. It will help you to know the upcoming events and their complete details.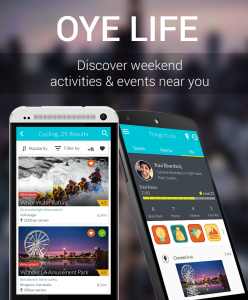 Technologies used:
Android Native (JAVA)
Our UX and UI experts worked with the entrepreneurs and product owners of Oye Life! from scratch and created a beautiful, easy-to-use and engaging app. The different stages in UX phase included requirement gathering workshops, creating user personas, user research, information architecture, wireframes, visual design concepts, visual design and prototyping.
GoodWorkLabs' dedicated team has completely focused on making the UX and UI of the application, engaging and artistic. The different stages in the UX phase included many steps and in sync with the product owners of Oye Life, our team has created an amazing application.
The App has personalized features that are build keeping in mind the audience base.
The team has focused on the UI/UX of the app to make it engaging.
GoodWorkLabs – The Most Trusted IT Solutions Provider

Leader in the World.
Recognised by most trusted awards.