Best SAP Hybris Solution Providers
Hybris is an e-commerce platform which enables and assists to showcase products in both B2B and B2C markets effectively. It is an enterprise-level e-commerce software suite that offers B2C and B2B store functionality. Presently, more than 2,500 stores use the Hybris platform, boasting more than 20 million product SKUs and over 500,000 orders every single day, globally. Hybris has been a mainstream enterprise platform particularly in the European market.
The Hybris Commerce Suite has tools for the web and mobile projects including powerful search and merchandising, master data management, order management and web content management.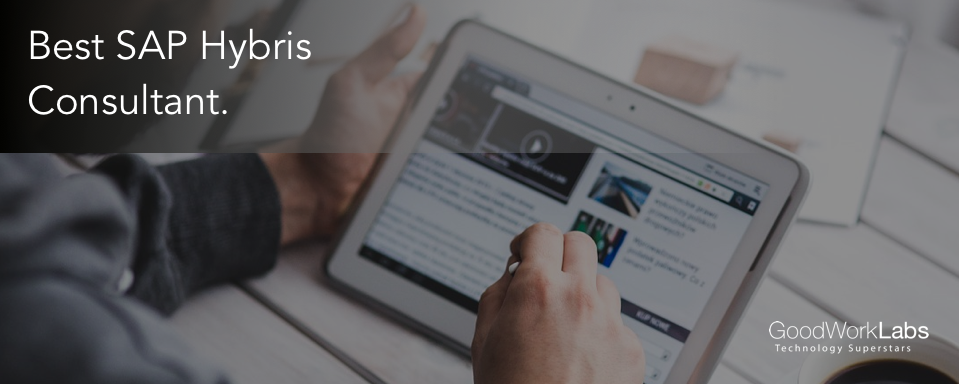 GoodWorkLabs and Hybris technology
Our customer engagement and commerce solutions have been utilized by some of the most reputed B2B and consumer brands in the world. We serve businesses of varied types including  retail, consumer products, wholesale manufacturing , telecom industry, financial services, insurance, public sector, travel, media, publishing, software and automotive to name a few. Every industry is constantly trying to upgrade themselves and we help big players across all sectors in  doing so with our technological prowess. With our technological prowess and the capabilities of Hybris, you can expect world class solutions for your existing business models.
Why hire GoodWorkLabs as your SAP Hybris Software Consultant
GoodWorkLabs has over the years mastered the art of providing tailor made products to the clients. We analyse each problem carefully before delivering solutions. Hybris allows us to do the same and you can expect a wide array of advantages.
1. Dynamic Product Bundling
One of the main challenges for many B2B e-commerce sites is the configuration of product bundles with associated customer-specific pricing. Many implementations tend to avoid bundling, or implement bundles using a rigid system where each possible product assortment is a single SKU in the product catalog. Dynamic product bundling is one of the key advantages of using the Hybris suite.
2. Merchandising the Product Search Results
The increased use of mobile phones and devices to discover and research products has led to huge volume of online sales. Merchandising the product search results can tap the potential of the online sales sector. An indirect advantage of Hybris.
3. Procurement System Integration
Large customers, such as Fortune 500 companies and government agencies, tend to work only with vendors who can directly integrate with their existing procurement systems. The Hybris B2B accelerator enables vendors of any size to connect with in-house purchasing systems using the B2B module. Usability with the existing procurement platforms is a major advantage for the Hybris suite.
4. Merge Data from SAP and non-SAP Systems Using Data Hub
The use of the Data Hub to integrate hybris with SAP systems is well-established and documented. It can also be used to integrate and merge data from non-SAP systems.
Consider a B2B organization implementing a Hybris Commerce site that has two sources of product information. The primary product data is stored and maintained in an SAP ERP Central Component (ECC) instance. The organization also has a custom catalog-only site that contains enhanced product descriptions and other product attributes. The data from both the platforms can be easily merged and utilised in an efficient manner using the software suite.
5. Assisted Service Module (ASM)
One of the challenges B2B organizations often face during the launch of a new B2B site is helping their customers learn how to use and utilize the self-help capabilities of the storefront. A buyer's dissatisfaction with any part of the ordering process can lead to huge losses.
The hybris Assisted Service Module (ASM), introduced for the B2C accelerator provides an excellent solution for the above problem. Customer Service Representatives (CSRs) can use the module to log-in to the storefront and  can now easily see what the customer sees. The CSR can then guide the customer through the site, helping them search for products, add products to the shopping cart, and check out. Another unique advantage that Hybris can implement into your customer retention strategy.
Hybris allows you to be more flexible and rigid at the same time. It is the ultimate tool to enhance and maintain your existing processes. We can help you implement it in your business model in a hassle-free manner!
Consult us today and we will assist you in inculcating Hybris into your systems!