GoodWorkLabs is proud to be recognized as a certified Google Developer Agency. We understand the expertise and design required to build cutting edge technologies for businesses world-wide.
Over the past 4 years, we have built upto  60+ mobile apps which have been listed in the Play store and have generated millions of downloads. Being one of the 6 certified developer agencies in India and also one of the top 25 agencies globally, we have gained the credibility and validation that we understand Android technologies better than any one else!
GoodWorkLabs is now all set to build next generation technology solutions to service the growing demands of the global Startup ecosystem.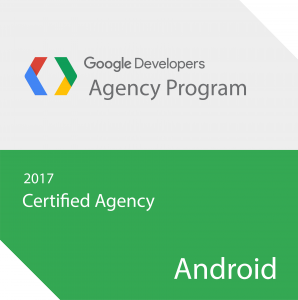 In April 2017, Google announced its expansion of the Google Developer network in India and published the second round of certified agencies. Only 6 agencies from India have made it to the global list and GoodWorkLabs is one among them.
As part of Google's Developer Agency Program, agencies will develop their expertise in using Google technologies. Additionally, developer agencies will receive training on latest Google APIs, developer technologies and best practices, invitations to events specially designed for software development agencies, recognition and showcase opportunities and participation in Early Access programmes, among others.
Vishwas Mudagal, CEO of GoodWorkLabs believes that this Google certification is definitely going to help clients make better informed decisions about their technology partnership.
"This is by far the biggest recognition in the global industry that GoodWorkLabs is the leading company when it comes to building Android applications and related technologies. Google Certification has put us on the map of the best of the best agencies in the world," said Vishwas Mudagal, CEO and Co-Founder at GoodWorkLabs. "Having bagged this certification, our credibility has gone up many notches higher, which in turn has resulted in increased confidence in our capabilities by our growing customer base across geographies."
Here is the list of the Top 25 Android Certified Agencies for 2017: https://developers.google.com/agency/directory/
Sonia Sharma, Founder and MD at GoodWorkLabs that the Google certification is the ultimate test for any developer agency.
"There is no bigger certification authority than Google for an agency. Years of effort in perfecting UX, design and technology, and a vision to build apps that touch the lives of millions of users have brought us here today."
We at GoodWorkLabs are constantly innovating and building powerful technologies to help businesses excel. Partner with us and we can consult / build a platform that will help you scale up your business model.