Education industry – Overview
The training and education segment is going through an interesting phase currently. Technology has embraced this segment like never before. The realm of teacher-student interaction is no longer limited to just classroom based training. Just a glance at these insightful statistics helps one to understand the massive potential online education has worldwide
E-learning saves almost 50% when it replaces traditional teacher-student education system
In 2014 roughly 46% of college students took at least one course online. However, by 2019, approximately 50% of all college classes will be online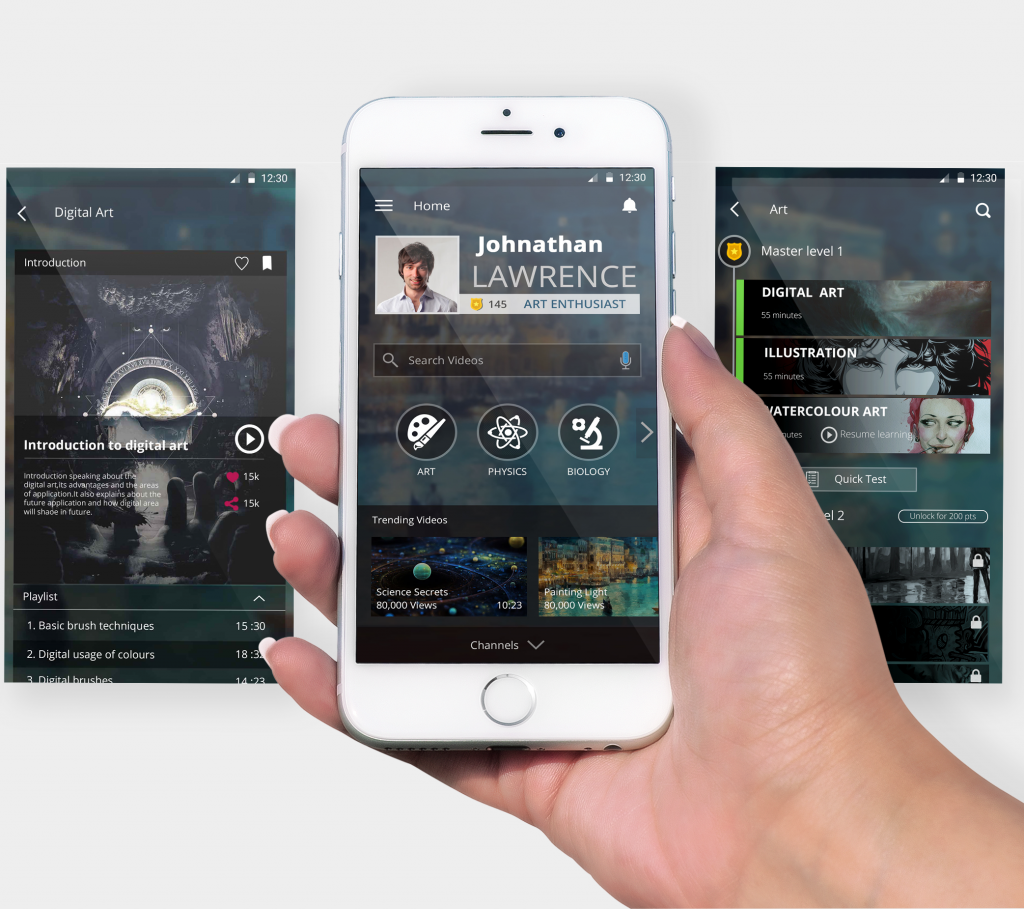 How GoodWorkLabs can help:
The impact of technology has been across the different streams of education – be it elementary education, higher education, teaching/ coaching, or even vocational training and skill development.
We, at GoodWorkLabs understand this impact very well. We work towards leveraging our expertise by developing e-learning solutions and mobile-enabled learning apps, software, LMS, and testing tools.
Remote and distance learning, e-learning, education course packages on Internet have all re-defined the concept of dispensing high quality education to young minds. Smartphone and internet based education too caters to the preferences of young adults.
With GoodWorkLabs, we help stakeholders in the education sector to scale up quickly to meet at these newer avenues so that the entire process of education remains as engaging in the face of shifting user preferences and shorter attention span.
There is also the need to bring teachers and training staff to come up to speed on how best to use these newer avenues to enhance the teaching process. With our learning solutions, they can adapt to these technological advancement to their benefits – for instance, report generation, performance tracking, examinations and results can all be now managed, regulated and administered electronically.
Below are some areas where the formidable technology experience of GoodWorkLabs comes into play for this industry.
Solutions provided by GoodWorkLabs:
Some of the challenges presented to GoodWorkLabs included the below
1. Mobility: 
Learning on-the-go, using devices such as tablets, iPads and smartphones need to be easily integrated within the current education system of a university or institute.
2. Professional education
The way content is presented and dispensed for professionals and employed people needs to depict uniformity and accessibility on-the-go. This is in line with what is offered by Funzi, one of the apps we custom built that incorporates learning with mobility and ease of access.
3. Edutainment
A key challenge in the education sector is delivering education through games. The need is to have age-appropriate content that combines education with entertainment. This helps in better engagement and quicker absorption of learning.
We built games such as Sesame Street and Monster Math to make learning a fun and easy process
4. Increasing efficiency of educational institutes
A holistic use of ERPs is needed for teaching and administrative staff of an educational institute to remain on top of their work. This calls for applications that are comprehensive yet easy to understand for those teachers ad non-teaching staff that aren't proficient in IT skills.
GoodWorkLabs offerings for Education Industry
1. Mobile Apps Development – The decades of experience and our competencies in empowering the stakeholders in the education industry has given us a deep understanding of the segment. This is apparent with our mobile apps focused specifically on delivering rich engagement and productive collaboration between students, parent and teachers. These are available on major platforms such as iOS and android.
2. Software Development Services – We have proven capabilities in building software solutions, including LMS, e-learning solutions, educational ERP, systems integration and ICT for education using various technologies like Java, PHP and .Net
3. UX Design Services – We believe that UX design is a key component of delivering high end mobile apps and software that gain adoption among student/teachers. We understand that the success of a product depends on a good, clean design. We offer research based design, appealing and fun interface for students. Another hallmark is the thoughtfully designed, well-round applications, offering ease of use. Our decades of design experience comes across very vividly in the form of beautiful, entertaining yet highly impactful educational solutions
4. Game Development – We offer game development apps-based learning solutions where learners can avail of a blend of education and entertainment. We believe and work towards providing high impact and learning value from audio visual medium in form of interesting, meaningful, age-appropriate and relevant games.
Case Study – Software Development and Mobile Apps in Education Sector
GoodWorkLabs helped a major Finland based startup build a leading new-age education and learning app for today's professionals. The app provides a fun and simple, yet effective way of learning on the go. At the heart of the app is our belief that the learner need not be constricted by time, place or geographical distance to ensure he/ she acquires new knowledge. Once you choose the subject you want to learn, you can do it in a step-by-step manner. The course content itself is designed to hold your attention and facilitate quick grasping of the concepts behind the topic.
With this app, you get the power to like or dislike any specific topic. You can also participate in an interactive quiz that tests your understanding of a particular topic.
GoodWorkLabs custom built this app, handling every aspect of the creation – UX design, software and mobile app development, server side implementation, APIs, and documentation.
Contact Us:
To build your solution, product or app for the education industry, send us a quick message with your requirements.