Best Android App Development Company in California, USA
Android phones are popular everywhere. If you are targeting to get hold of maximum customers, having a presence on the Android platform is a must. Mobile applications have changed the way customers interact with a particular product or service. To stay ahead of the competition, it is imperative that your business has a mobile presence to attract the right customers at the right time.
GoodWorkLabs is the best android app development company in California and we have built mobile applications that have garnered over 60 million downloads. Clients globally, including Startups and Fortune 500 companies have trusted us to help them build powerful and innovative android applications for their business. What makes us stand among the top Android App Development companies is that being a Google-certified agency, we strive to give the best solutions to our clients.

Our Process:
GoodWorkLabs is an end-to-end product development company and we clearly understand the technology required to help businesses reach their full potential.
We have worked with several top brands on their digital strategy and have helped them re-create an awesome Mobile and User Experience for their product
1. Digital Strategy – Planning and Research:
We help you see the hidden potential that you don't see. Our User research team dives in deep to understand your brand, derive audience insights, and suggest the best design and technology to target your users. Right from concept to reality, we walk you through every bit to ensure your branding and business message resonates with the users.
Brand and Product Strategy

User Research

Design Consultation

Analytics
2. Making it Beautiful – Design and Lean UX Methodologies:
Everything we do has to be beautiful, easy to use, efficient. The aesthetic and practical design is the core of our work. And attention-to-detail is the bottom line principle. We craft each application starting with a user story. Whether you're making your debut on the digital platform or are wanting to test the market or concept viability of your product, GoodWorkLabs is your go-to technology partner.
Information Architecture

Wireframes

Visual Designs

Prototype
3. Bringing it to Life – Technology and Agile Software development:
We Live. Breath. Dream. Scrum and Extreme Programming Methodologies. Our motto is simple – to build outstanding real-world software for our customers. As a certified Google developer agency, we know exactly how to engineer high-tech products that can translate your vision into reality.
Android Mobile apps

2D and 3D Games Art and Character sketching

Game development
Hire GoodWorkLabs as your Android app developer:
GoodWorkLabs is recognized worldwide as a certified Google developer agency with expertise in building Android technologies. We are a 'design-first company when it comes to product building. Our designers first investigate matters such as user empathy, user behavior, trends, etc after which we design a go-to-market product that re-defines your product strategy.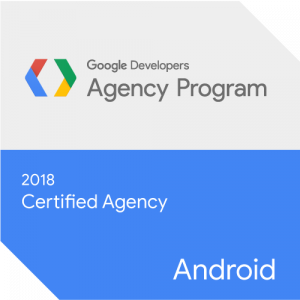 We have also been reviewed on Clutch.Co as one of the top mobile developers and design studio to partner with for your technology needs.
Read client reviews here.
Our Success Stories:
CommonFloor, a real estate giant approached GoodWorkLabs to build a powerful android mobile application that will help realtors to:
1) List their properties
2) Connect with potential customers and clients
3) Increase the sales leads
4) Use the app as a CRM tool to increase business.
The GoodWorkLabs team first conducted extensive user research and post the R&D, our expert UX team mapped the user journeys and interactions to ensure we capture every minute detail in the Android application. Our 'design first' approach helped us build a beautiful and aesthetic UI for the android application.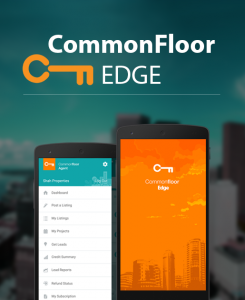 Read the case study here.
Our Clients and Partners:
GoodWorkLabs has serviced some of the finest customers across the globe. Both Startups and Fortune 500 companies have trusted us for their technology partnership and as their android app developer.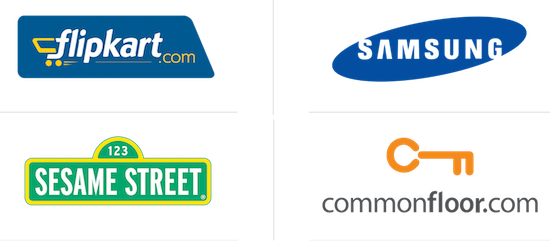 Also on Clutch, we are rated as one of the top Android app development companies in San Francisco, USA and have also been recognized in Chicago, New York, Boston for our services in android app development. Here is what few of our customers have to say about our services: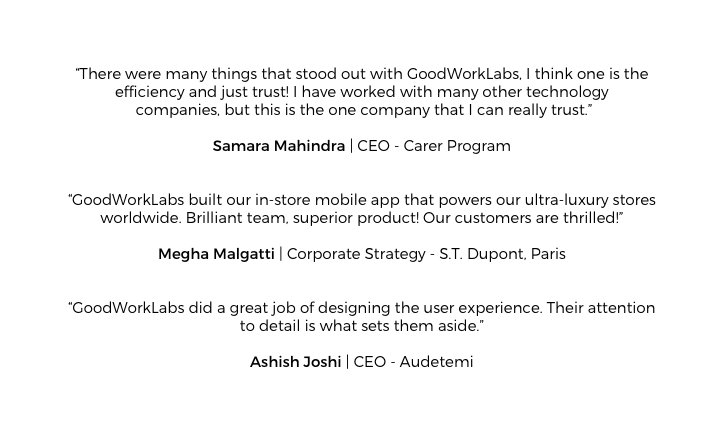 Get in touch with our Android Experts:
When you work with the USA's top Android developer and UX / UI Design agency, stay assured that we will build aesthetic, bug-free, and super scalable Android apps that will WOW your users and visitors globally.